Project Info
Location: Morristown, NJ
Scope of Work: Sliding Door Replacement, Carpentry, Painting
Monk's was called to this home to provide a sliding door replacement. Due to improper installation, water had seeped in, causing visible damage. By the time the leak was noticed, the damage was too great to simply repair. New sliding doors, frames, and transom were needed.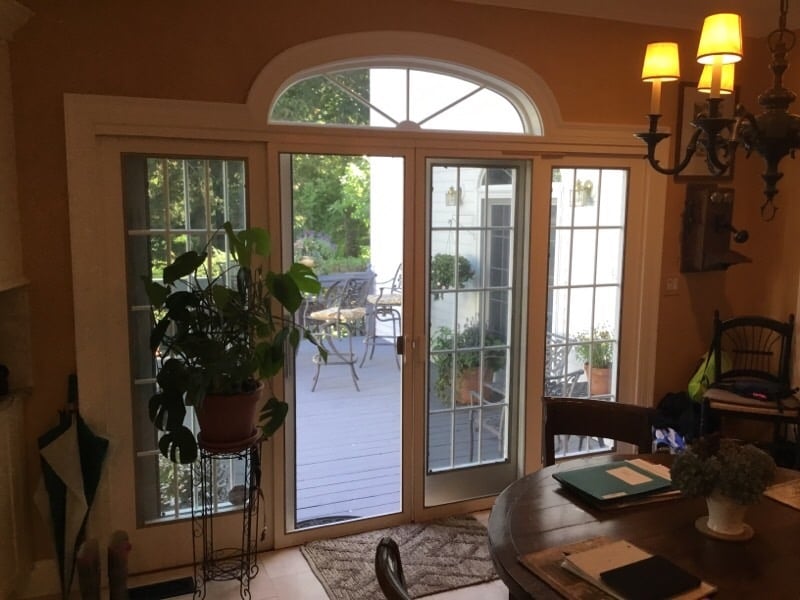 Sliding Door Replacement
During the initial estimate, the Estimator took measurements of all the doors and transom. Our showroom ordered the appropriate replacements based on the homeowner's style and budget.
When the new sliding doors arrived, we removed all the rotted doors, transom, and adjoining trim. The carpenters installed the new sliding doors. The transom above the doors was also put in place. Our carpenters properly installed the elements to make sure everything was water-tight. The carpenters installed new composite trim around the doors' exterior. They also hung new interior trim that was made of wood.
Lastly, our painting crew came in to finish the project. On the outside, the painters painted the exterior trim and surrounding shingles. While on the inside, the painters painted the trim and touched up the walls.
Now, these sliding doors are properly installed and will be able to withstand the elements.