Project Info
Location: Florham Park, NJ
Scope of Work: Building new pergola
The homeowner originally constructed the pergola that covered his back patio and deck area. The pergola had been there for many years. It was covered with heavy vines that filtered the sun in the summer and bloomed with lovely flowers. So when a storm damaged the structure it was all the more upsetting.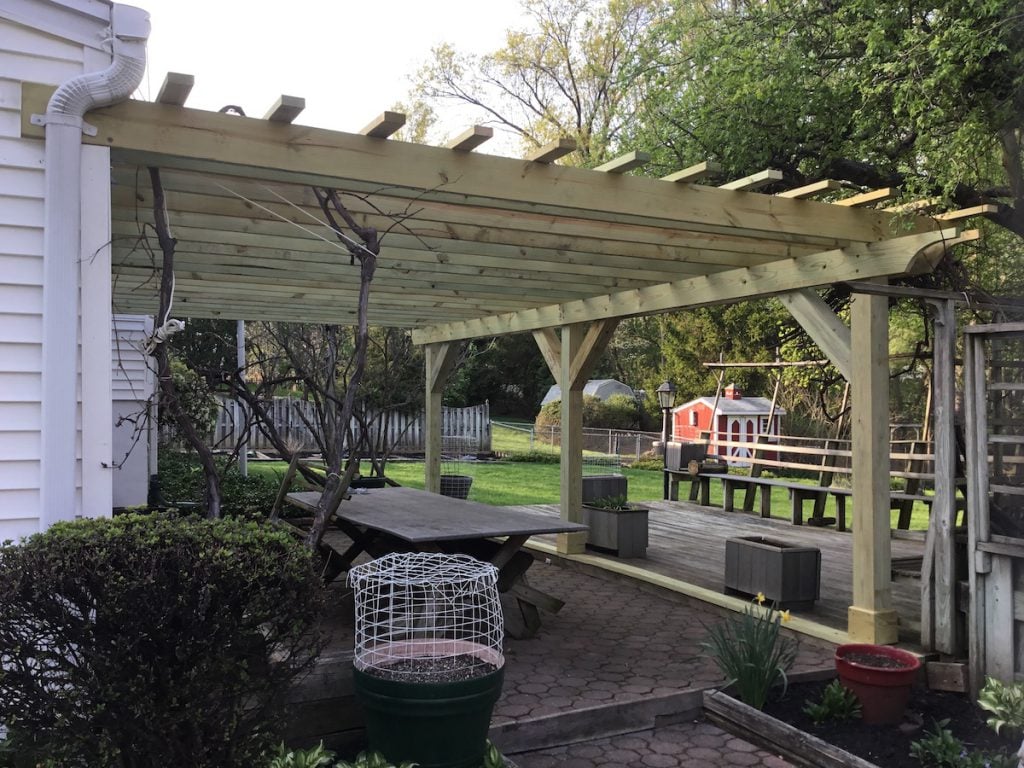 Building a New Pergola
We had done a number of projects for these homeowners in the past, so they knew they could count on us to rebuild their outdoor space. They even had a picture of a pergola that they wanted theirs to look like. This helped make sure we delivered exactly what they wanted.
Our carpenters began this project by clearing the area of damaged wood and any debris. The crew removed and disassembled any remnants of the existing structure.
With a clean slate, the carpenters got to work on framing the pergola. The pergola would attach to the house and run the length of the patio, stopping where the pavers meet the deck. The carpenters installed the posts first, along with the beams. Then the carpenters cut the rafters to match the homeowner's example photo. The rafters were attached to the beam and to the house.
After the carpenters installed the rafters, they put up the purlins. The purlins, sometimes referred to as lattice, run across the pergola on the very top of the structure. Some pergolas feature purlins that are laid close together, while other pergolas feature fewer purlins that are spaced further apart. The homeowners requested that the purlins be spaced further apart than in their inspiration photo. This would allow their vined plantings more room to grow through the rafters and purlins and spread.
Building this new pergola took just a couple of days for this experienced carpentry crew.
When they had finished, Monk's painters came in and stained the pergola and deck to match. This would serve to protect both structures from the elements.
The homeowner approves of his new pergola and is looking forward to enjoying time spent underneath it this spring and summer.