Project Info
Location: Florham Park, NJ 07932
Scope of Work: Siding Replacement, Trim Replacement, Exterior Painting
Due to exposure to the elements, Calvary Presbyterian's steeple needed regular repainting. However, they desired an improvement with less maintenance. In only three days our team replaced all of the steeple's siding and trim with more weather resilient materials.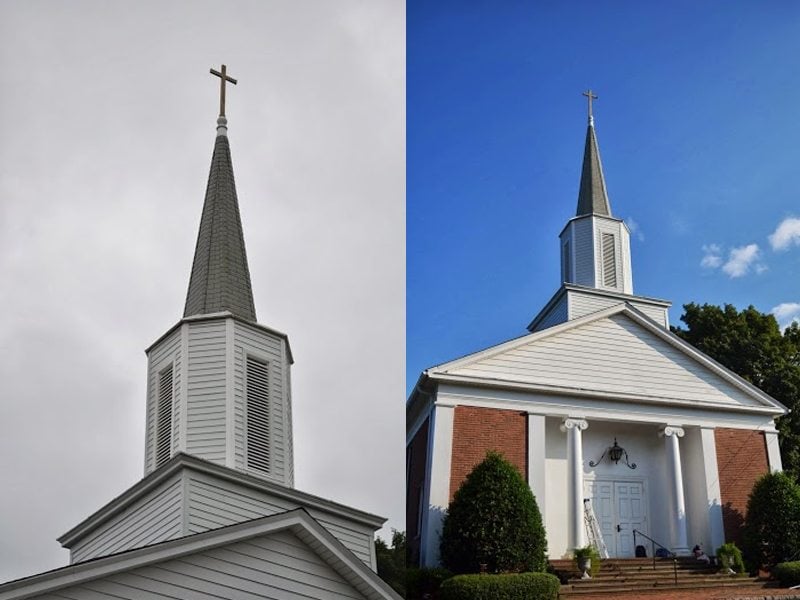 Monk's Method
We performed a routine siding replacement job, only this time it was done over sixty feet in the air! Building codes require a proper lift to be used whenever construction is done over sixty feet in the air. We rented a lift for the day to renovate this Florham Park church steeple.
Church Steeple Renovation
When we arrived, we began by stripping all original cedar siding and pine trim off of the steeple. While these are excellent materials to use for other projects, this church needed something sturdier. Due to the steeple's location, it is exposed to all sorts of weather and rather hard to get to for routine repainting. By replacing the siding and trim with a hardier material the steeple would not need as much maintenance.
Our team decided to replace the original cedar siding with hardi plank, and the original pine trim with azek. Both of these materials are resilient against the elements. The hardi plank and azek trim were prefinished, so we could install them and without painting.
Our team also created custom built on louver panels for ventilation in the steeple. We built these louver panels on the ground and then installed via the lift.
Besides the work on the steeple, our team also painted a portion of the church's lower section, including the front columns. The process here was typical to all of the great exterior paint jobs our team performs. We carefully cleaned and sanded the area, then applied a coat of primer followed by two coats of paint.
In only three days our team had given the Calvary Presbyterian Church in Florham Park a serious facelift!
Learn more
If you are considering siding replacement or an exterior painting project we would like the opportunity to tell you why we think we are the best carpentry and exterior painting contractor in Florham Park, NJ 07932.
To discuss your project and receive a free estimate, call 973-635-7900 today.