Project Info
Location: Madison, NJ 07940
Scope of Work: Composite Railing Replacement
This Madison NJ home featured a traditional flagstone patio that surrounds a solarium and is partially covered by a pergola. The patio had a pressure-treated wood railing system that surrounded the area. However, after years of wear, the railings were rotted and in need of repair.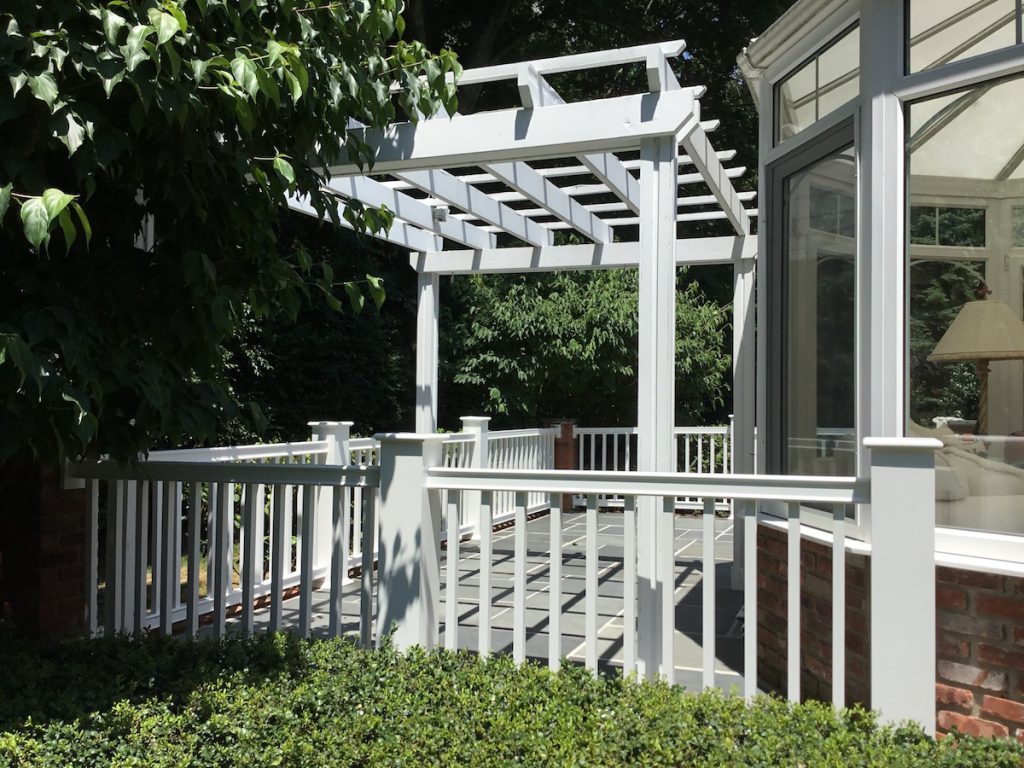 Monk's Method
Instead of replacing the railings with another wood set, the homeowners opted for a more durable, lower maintenance option. They selected a composite system that matched the look of their fence and complemented the pergola.
We began by removing all the rotted pieces. This included the railings as well as the base caps of the pergola. We kept the railing posts that were not rotted. We ended up replacing some of these. They were all placed and wrapped with composite sleeves and caps. A set of steps leading to the backyard was fitted for railings. This set of railings was also wired for lighting.
The rest of the railing system was installed to fully enclose the patio. Additionally, we replaced the back stair railing with matching composite railing.
Finally, the pergola was repainted to finish off the maintenance and improvement work.

Learn More
If your home is in need of any type of exterior carpentry work including railings, decks, porticos or porches, please give Monk's a call. We can handle all types of exterior carpentry work. If it's made of wood or wood composite, we can take care of it for you.
To see more exterior carpentry projects by Monk's, see our exterior carpentry gallery.
Call 973-635-7900 to schedule your appointment for a free estimate.