Project Info
Location: Chatham, NJ
Scope of Work: Complete Exterior Remodel: Exterior Carpentry and Painting, New Shutters & Railing System
This home received a full exterior remodel. Some changes were absolutely required due to safety, while others were cosmetic. Monk's gave this home a whole new look that was totally up-to-date!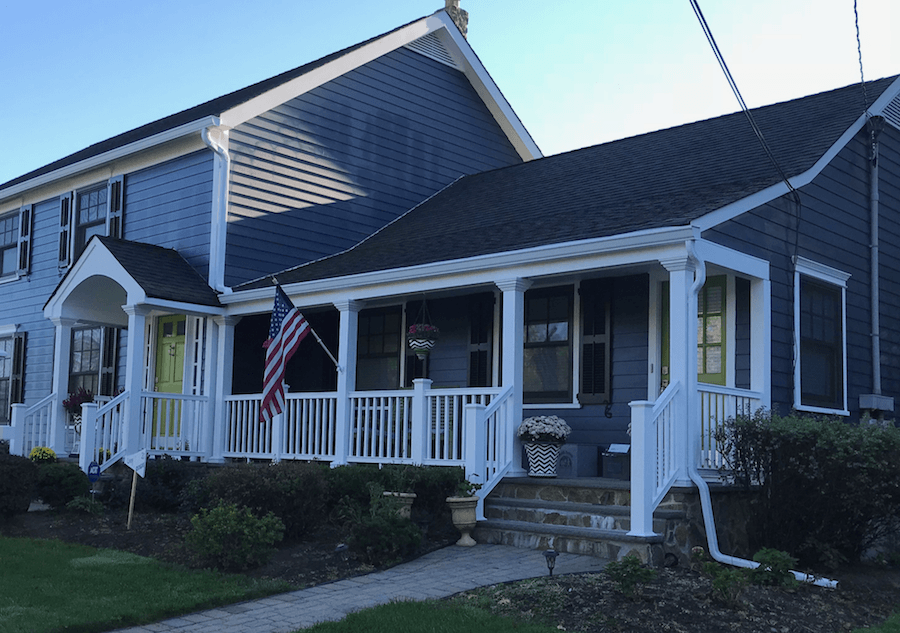 Monk's Method
Firstly, we started this exterior remodel by removing the front porch railings, portions of the portico, and the rotted back porch. Once all of the old wooden components had been removed, the carpenters began to reconstruct the portico. Once the structural columns were in place, the new front railing system was installed. Then around back, the carpenters rebuilt the stairs leading down from the back door. This time the carpenters built the stairs using composite. That way they would be nearly maintenance-free, and last for many years.
Then the painters gave this home a full exterior painting project. The shingles were painted with Benjamin Moore's Hale Navy, an extremely popular exterior paint color. Also, the painters painted the trim white to match the Intex railing system.
Lastly, black composite shutters were installed. Like the composite stairs, the shutters won't rot or peel, like natural wood shutters can.
After 6 weeks this home looks totally new!
Learn more
Monk's carpenters can help with any woodworking project. You can see some more of our carpentry projects in our photo gallery pages, for exterior carpentry.
Working together with our painters, your exterior project will be completed efficiently. You can see some of our exterior painting work at our exterior painting gallery.
Then call 973-635-7900 to schedule an appointment to discuss your exterior remodeling project.