Project Info
Location: Mount Tabor, NJ
Scope of Work: Exterior Carpentry
This Victorian home is a brightly colored beauty with a lovely front porch. The homeowners wanted to be able to access their driveway from the front entryway. In order to do so, we built a set of exterior stairs and a hand-cut railing system to match the porch. Monk's painted the railings and stained the mahogany treads.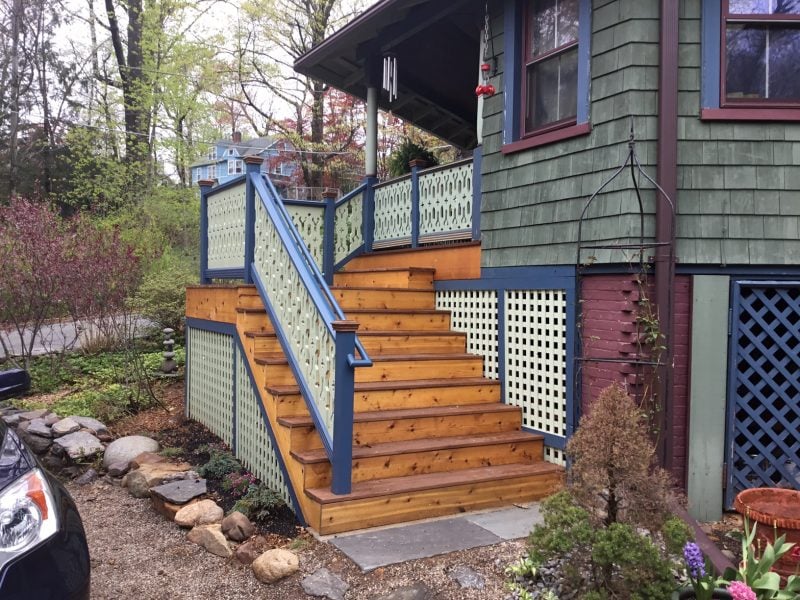 Monk's Method
To begin this project, the rocks next to the porch were moved and the ground leveled.
Once completed, we could begin the carpentry work. Firstly, we dug and poured the posts for the stair landing. The carpenters built the frame of the exterior stairs on-site. Our carpenters built the frame and railings using pressure-treated wood. We constructed the stairs from mahogany hardwood.
Our carpenters custom built the hand-cut railing system to match the existing porch railings. After the stairs and railing were complete, we installed the lattice skirting. Again, the pattern here matches the skirting around the porch.
Once the carpentry was completed, the painters got to work. Painters applied a dark blue to the handrails, base rails and newels. They applied mint green to the sawn balusters and lattice skirt. Lastly, the painters stained and sealed the mahogany stairs. The natural wood look blends into the landscape, while the seal protects the stairs from sun and water damage.
Finally, the exterior stairs are complete. A beautiful addition to this home that seamlessly flows down from the front porch.
More Exterior Carpentry Projects
We can build exterior stairs, decks, wood porches and porticos. To see some of our exterior carpentry work, visit our exterior carpentry gallery.
Then call Monk's at 973-635-7900 to schedule your free estimate today!