Project Info
Location: Florham Park, NJ
Scope of Work: Railing Installation; Storm Door Replacement
These Florham Park, NJ residents love their current home. They have raised their family here, and know all their neighbors. But, now that they are older, some modifications to their home are needed. Some relatively small changes can make a big difference with regards to safety and comfort.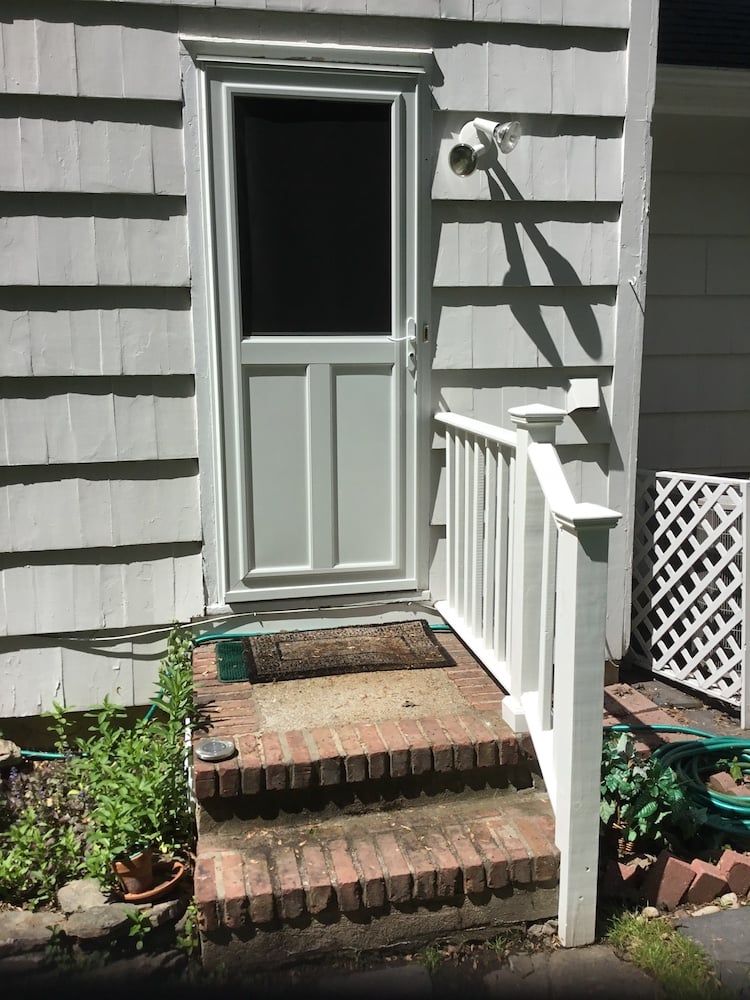 Monk's Method
At a certain point, all seniors need to decide if they will move, likely downsizing, or if they will stay at their current residence. The latter is referred to as "aging in place". Oftentimes, modifications are needed in order to keep aging residents safe. These modifications may include bathroom safety like swapping out a tub for a shower with a bench and adding grab bars. However, in this home, we made a couple modifications to the exterior.
The back door featured a small landing with two steps. These steps don't require a handrail because they are close to the ground. However, adding a railing for aging in place was necessary. We installed a pressure-treated railing and then painted it white to match the home's trim.
Additionally, the existing screen door was not providing adequate protection from the elements. We replaced the old screen door with a storm door. This new storm door features a retractable screen. Therefore, the homeowners can enjoy the fresh air on warm days, but effectively keep out the cold during the winter months.
In just a day, Monk's made this home safer. We hope the homeowners can enjoy many more years here!
More Exterior Carpentry Projects
Monk's carpenters can make any necessary carpentry repairs to your home. This may include trim replacement, shingle replacement, column wrapping, a new railing system or a brand new deck. We work with wood and composite and will explain to you the benefits and drawbacks of each.
To see some more exterior carpentry projects, visit our photo gallery.
Give us a call at 973-635-7900 to schedule your free estimate and get your project started.