Project Info
Location: Madison, NJ
Scope of Work: Exterior carpentry, exterior painting
This home had a large porch and a side entrance with a small covered porch. Both structures had not been properly maintained and needed a lot of work. But the end result transformed the home's exterior.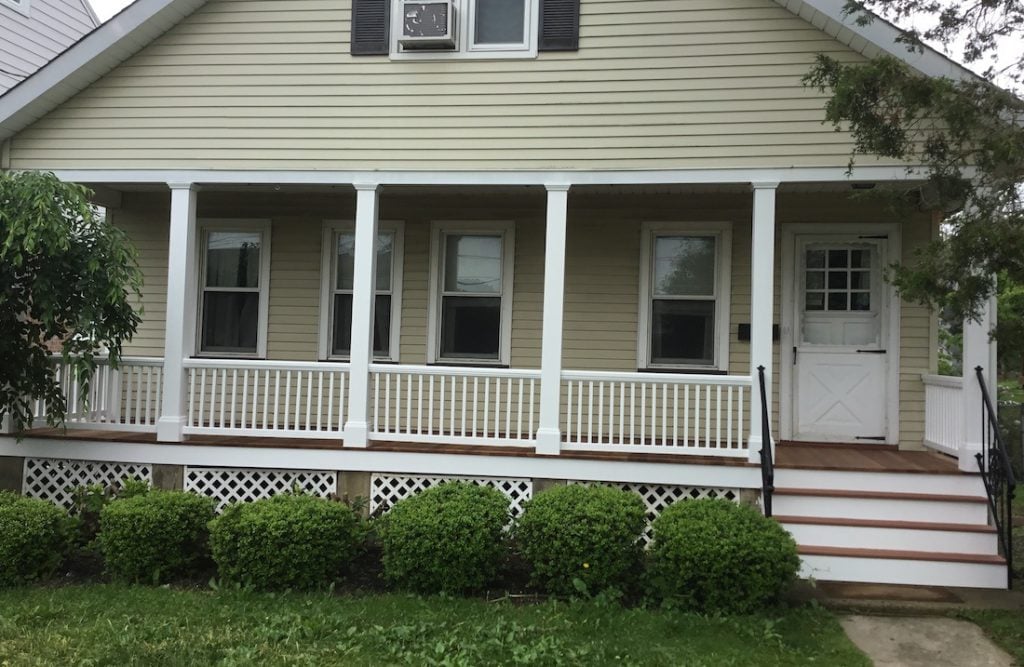 Rebuilding a Rotted Porch
When we first inspected the front and side porches during the estimate, we found rot on the side steps. We suspected rot in various portions of the front porch, too. However, we didn't know the full extent until we got to work. Like peeling an onion, the more rot we removed, more rot we'd uncover.
In order to properly rebuild the front porch, the carpenters did the following. Firstly, they removed all the rotted wood. This included floorboards, column caps, framing, treads, and skirting. The front porch started with a partial wall that was covered in vinyl and aluminum siding that matched the home's exterior. The carpenters removed this section of the porch as well. All rotted areas were replaced. Three front columns were rebuilt by the carpenters. Then they wrapped the base caps.
Once all the wooden components were replaced, the painters got to work. A transparent stain was applied to the floorboards of the front porch. On the side porch, the painters applied a solid stain to the floorboards and treads. They painted all the columns and trim.
Now, these entryways are looking great. Even better, they are safe and secure.
If your home needs some porch, railing, or trim repair, Monk's carpenters can help.