Project Info
Location: Florham Park, NJ
Scope of Work: Portico repair, front door installation, railing installation
A portico offers a home both form and function. It welcomes guests by providing protection from the rain. From a form standpoint, it gives a home architectural interest. This portico was a rather large one, covering a front door and two side lites. However, the portico, as well as the front entryway, were in need of repair. Monk's carpenters repaired the portico, installed new railings, and installed a new front door. This entryway makeover made quite a difference!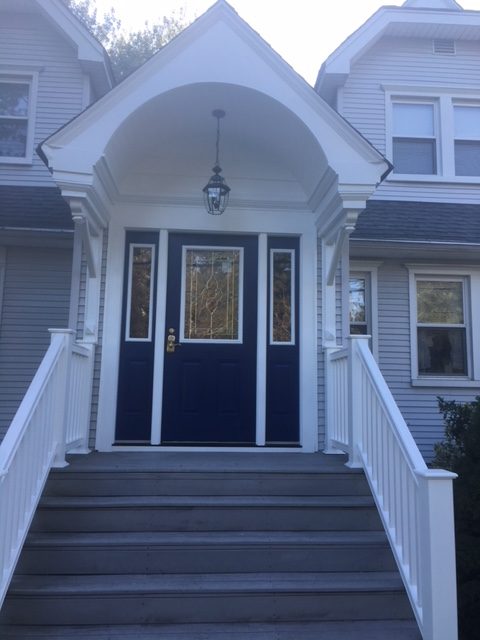 Repairing a Portico
The homeowners wanted a lower-maintenance entryway than the current version. Wooden railings and wooden trim require regular upkeep. Instead, composite products offer a similar wood-look, but with very little maintenance.
The homeowners came to our Morristown, NJ showroom to select a new front door and railing system. They selected a fiberglass door with a larger glass panel. The glass was decorative which would also provide privacy. The two side lites were structured just like the front door with the top halves being glass. They also selected an Intex PVC railing system in white.
When all of the materials had arrived, our carpenters got to work. They removed the old railings and all the rotted trim pieces. The old front door and side lites were removed. Then, they replaced the door and railing system with the new products. The carpenters replaced rotted trim pieces with composite. Lastly, the painters completed the project by painting the entryway.
The curb appeal of this New Jersey home just improved dramatically. Plus, the homeowners can now enjoy their entryway with minimal work.
Ready to learn how Monk's can help you?
Contact us for your free, no obligation consultation and estimate.
Call the office at 973-635-7900 OR