Project Info
Location: Madison, NJ
Scope of Work: Trim Replacement, Exterior Painting, Gutter Installation
Balconies evoke fairy tales and romance. Or, for the more practical, an outdoor space to enjoy a coffee or watch the sunset. This bump-out that housed the side door entry and a second-floor balcony was a better idea in theory than in execution. The balcony roof was not graded to allow for proper drainage. Additionally, since there was not a gutter, overflowing rainwater would just pour onto the entryway below. This caused water damage to a number of areas in the bump-out.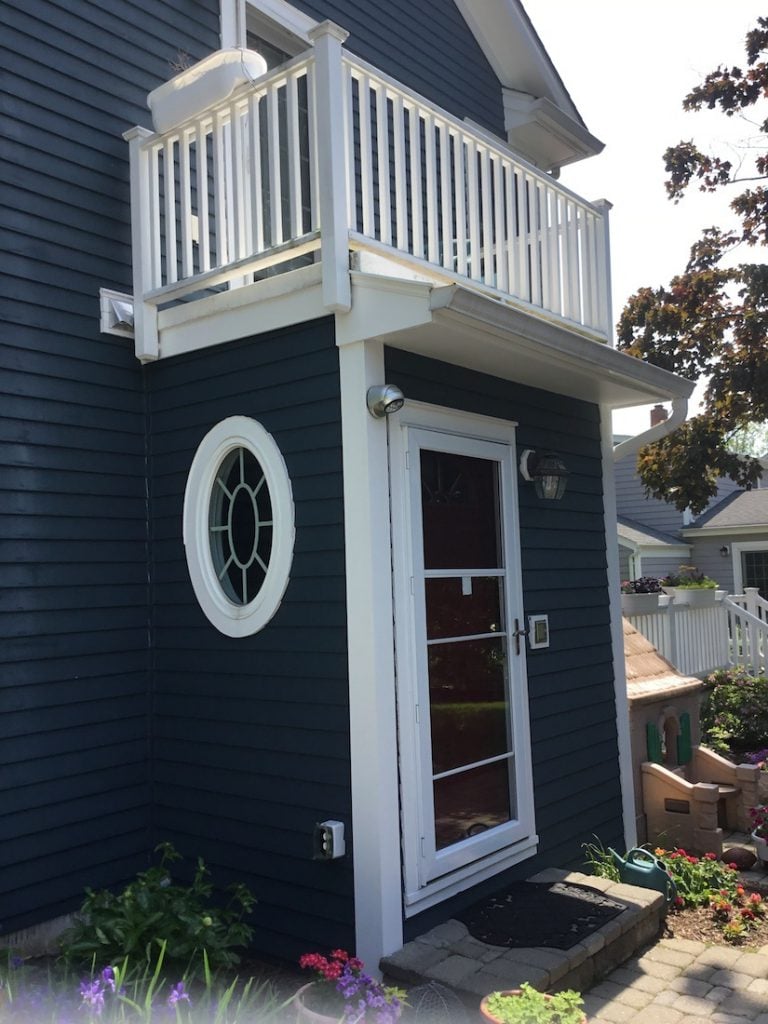 Monk's Method
Monk's carpenters began by removing all the rotted wood. This included the facia boards and even the interior door frame. Separately, some rot was also visible on the trim surrounding the garage doors.
Then we replaced the rotted wood with water-resistant composite. In order to alleviate the drainage issue, we built a new soffit and small awning. Then we installed a new gutter and leader. This will help to funnel the rainwater off the balcony roof and away from the house.
Since the door frame also needed to be replaced, the homeowners decided to upgrade their standard storm door. Our carpenters installed a new storm door with a retractable screen. This door offers the best of both worlds – protection from draughts during the winter and summer, along with the option to enjoy fresh air during the temperate months.
The carpenters also replaced the rotted trim around the garage doors with composite. Then our painters painted the trim around the garage and on and around the bump-out.
Now, this home is ready to handle the next storm.
More Exterior Carpentry Projects
In addition to repairing water damage, Monk's carpenters can provide other repairs as well as constructing new decks, porticos, and porches. Our carpenters can build anything, provided it's made of wood or composite. We also do lots of interior finishing work like fireplace surrounds and built-ins, crown molding and wainscoting installation.
To see some of our exterior carpentry projects, visit our photo gallery.
Give us a call at 973-635-7900 to schedule your free estimate and get your project started.