Project Info
Location: Madison, NJ
Scope of Work: Exterior carpentry and exterior painting
The rotting railing system around this rooftop deck was in dire need of replacement. The homeowners could not safely enjoy their rooftop deck with the existing railing system. Carpenters replaced the railing system and raised the height in order to be up to code. Along with a full exterior painting project, this home is now looking great.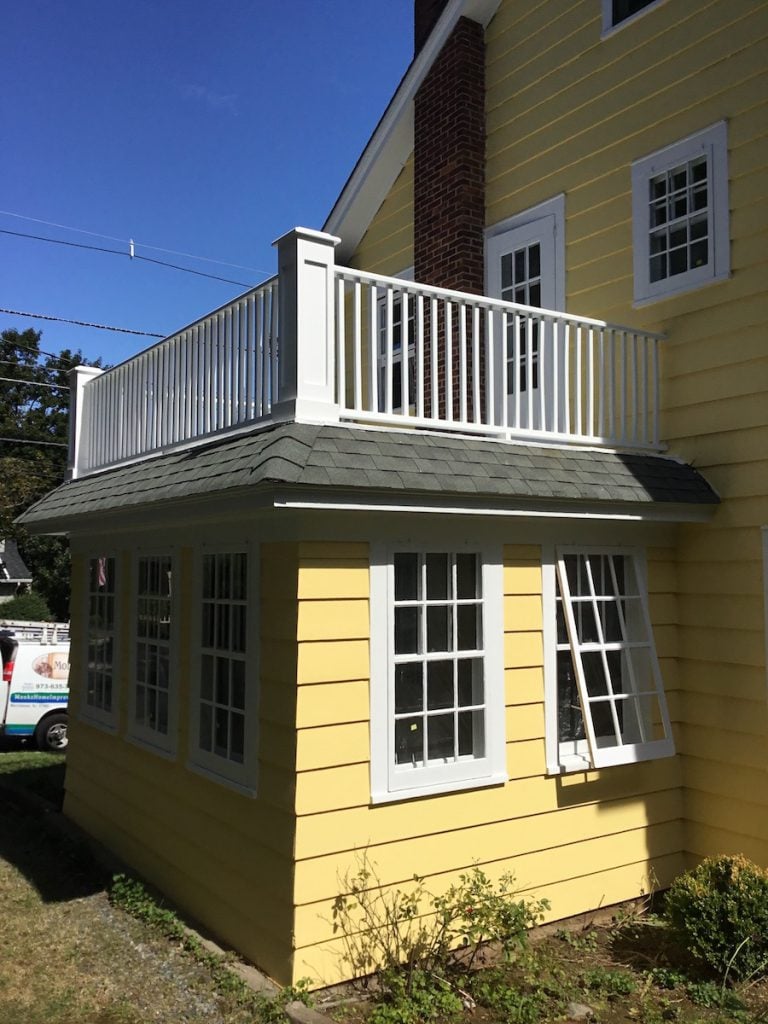 Monk's Method
First, our carpenters first got to work by removing the rotted railing. They also removed rotted pieces of wood from the front portico, as well as all rotten wood around the home. These were replaced with composite material to protect them from future rot.
The home and detached garage were in need of a full sanding and painting. The painters began by sanding the home and garage. As you can see in the photos, we sanded the siding down to bare wood. This will allow for the paint to adhere better while ensuring a beautiful exterior for years to come.
Then the painters power washed the home. Once dry, the home and garage were primed. This was followed up with two coats of premium exterior paint.
The yellow siding and crisp white trim make this home bright and cheerful. The rooftop railing replacement allows the homeowners to enjoy their outdoor space.
More Exterior Carpentry & Painting Projects
Monk's carpenters can make repairs to existing structures, as well as build new – like porticos, decks, and pergolas. For examples of our work, see our exterior carpentry gallery.
For exterior painting work examples, please see our exterior painting gallery.
Please give us a call at 973-635-7900 to schedule a free estimate for a painting or carpentry project. You'll discuss your project with an Estimator, and receive a written quote on the spot.