Project Info
Location: Madison, NJ
Scope of Work: Exterior carpentry, exterior painting, exterior door installation
This home has an absolutely lovely backyard porch – a brick knee wall, large curved open windows, a lovely flagstone floor, and beadboard ceiling. The homeowners loved the space but asked us to screen in the room so they could use it all summer long.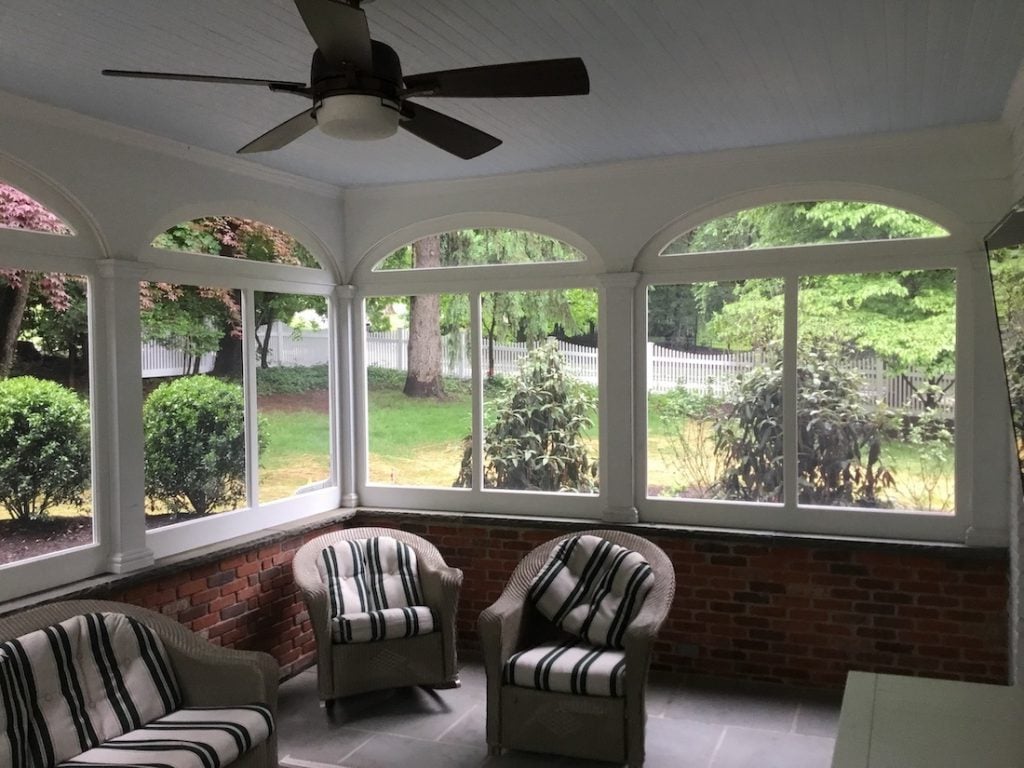 Screening-In a Porch
At the time of the estimate, the homeowner's discussed their project requirements. One of these requirements was to replace the exterior door connecting the porch to the home. Additionally, we'd also need to install a storm door in order for the homeowners to be able to access their back yard from the newly screened-in porch.
We ordered these two exterior doors through our showroom. We delivered the doors and then started work on the project.
Our carpenters began by installing the new back door. The new door has full-length glass, with divided lites to match the home. This type of door is intended to bring in the maximum amount of light. Then, the carpenters began framing for the screens and new storm door. The carpenters constructed rectangular frames to hold the screens within the large existing window openings. Then the carpenters screened-in all of the windows and transoms. The remaining opening held the new storm door.
The painters' completed this project by painting all the framing inside and out.
Now this porch is completely closed off from bugs. The homeowners can enjoy their outdoor room without being bothered by insects.