Project Info
Location: Mendham, NJ
Scope of Work: Siding a shed, window replacement, new columns, exterior painting
Nestled in the backyard of a Mendham, NJ home lived a little shed. It was covered in vinyl siding and did not match its natural surroundings or the home it lived behind. We gave this storage shed a total exterior makeover.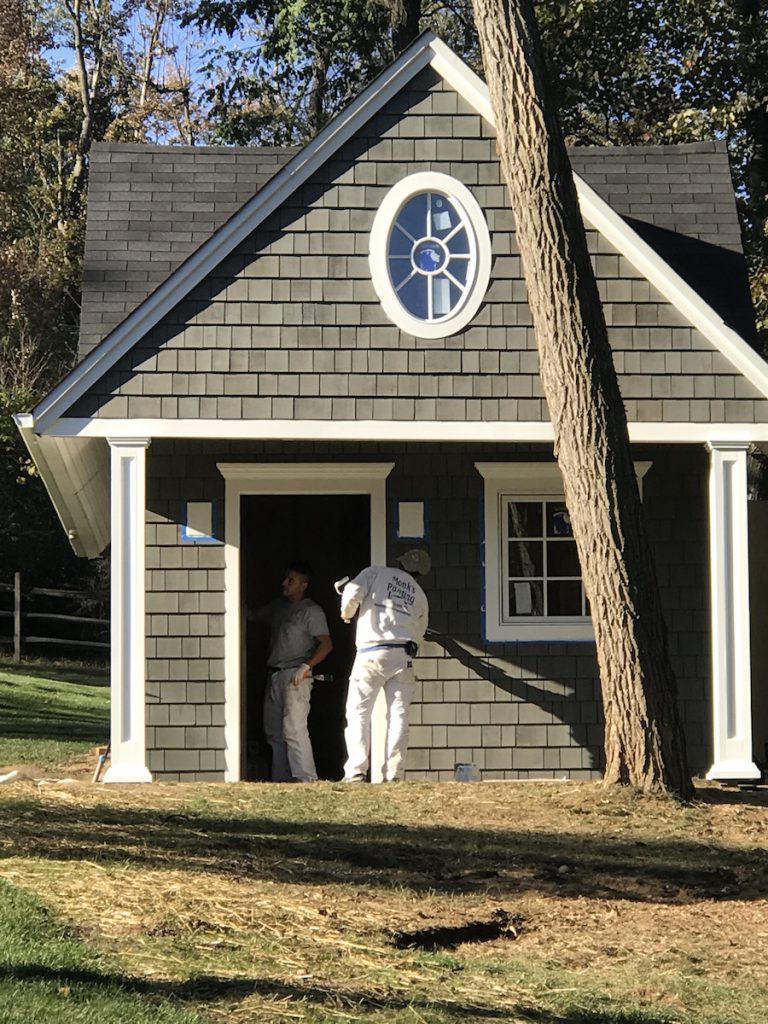 Siding a Shed
Our carpenters work with cedar shake siding all the time. It is a popular siding material in our northern New Jersey service area. The nearby house had cedar shake siding. So, the homeowners wanted the home and shed to match.
We began this carpentry project by removing all of the existing vinyl siding. We wrapped the building with waterproofing material and then began to install the cedar siding.
In addition to the siding, we installed two new windows. These windows were chosen to match the house. They were also trimmed to match. A new shed door was also installed and trimmed.
The shed overhang that was previously supported by one basic column was altered. We installed two support beams on either side of the overhang. Then the beams were wrapped in Azek composite. Composite will not rot and can withstand water and sun more than wood.
All of the shed upgrades made the building look much less utilitarian, and much more like a little residential outbuilding. The homeowners were thrilled with their remodeled shed.
Ready to learn how Monk's can help you?
Contact us for your free, no obligation consultation and estimate.
Call the office at 973-635-7900 OR