Project Info
Location: Morris Plains, NJ
Scope of Work: Exterior painting
This exterior painting project brought about an exterior color transformation. By applying on-trend colors that compliment each other, our painters took this home from ordinary to outstanding.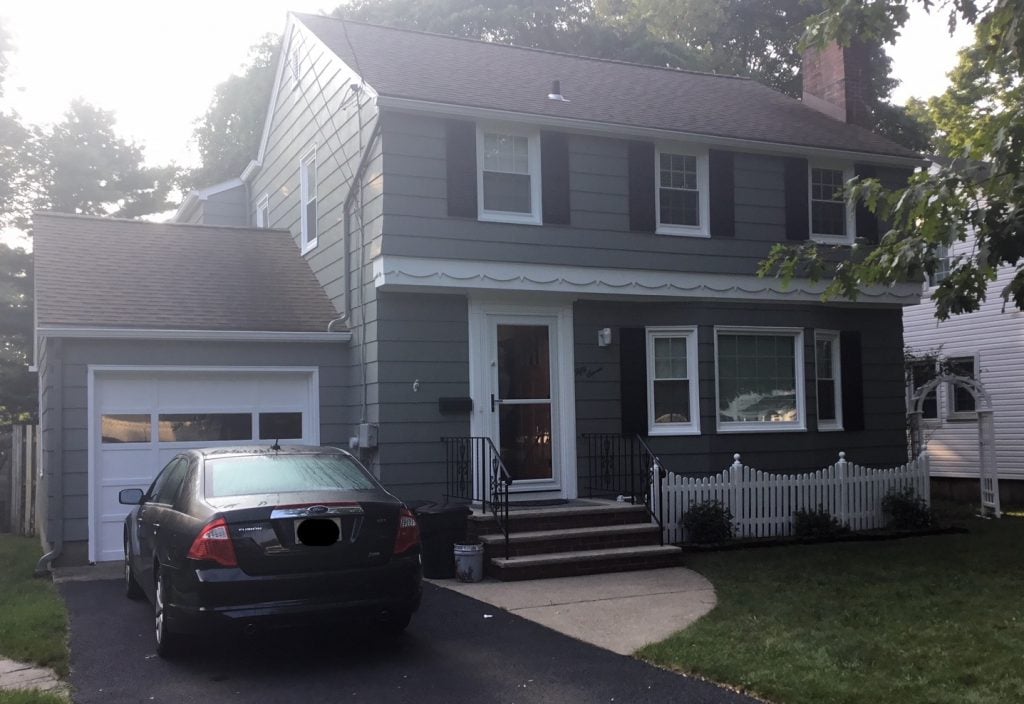 Exterior Color Transformation
Exterior painting is a necessary regular home maintenance project for any painted home. Exterior paint protects the siding of the home, whether it's cedar, composite, or stucco. Depending on the size of your home, exterior painting can be a major project requiring lots of paint and lots of ladder climbing. It's the type of home project that doesn't excite most homeowners, even if they are leaving it to the professionals.
This Morris Plains, NJ home was in need of an exterior painting job. We came out to assess the home and provide a quote. While we were there, we also measured the front door in order to provide a replacement. The current door was draughty. Plus, they wanted to make sure that the new front door would work with the new color scheme.
Like many homeowners, they knew they wanted to update the look of their home, but they weren't sure exactly how to go about it. We coordinated a Sherwin-Williams color consultant to come to the home to give ideas. Based on her suggestions and the homeowner's preferences, we sampled some siding and shutter color combinations. This helped the homeowner visualize the proposed changes and select her favorite.
After the color was decided, we prepared the home for painting. Firstly, we power washed the home to remove any dirt, mildew, and loose paint. Then the painters hand scraped and sanded any remaining loose paint. The painters primed and then painted the selected Sherwin-Williams paint colors. The painters also painted the wrought iron railings, taking them from white to black.
Additionally, we installed a new energy-efficient front door that was selected in our Morristown, NJ showroom.
Now, this exterior color transformation is complete!
Call 973-635-7900 today to set up a free estimate for your next painting project.
Ready to learn how Monk's can help you?
Contact us for your free, no obligation consultation and estimate.
Call the office at 973-635-7900 OR