Project Info
Location: Boonton, NJ
Scope of Work: Exterior painting, exterior carpentry
This home's window sills and trim, along with some fascia boards were rotted. The stucco exterior was dirty and faded. Monk's teams of carpenters and painters completed this project quickly and efficiently.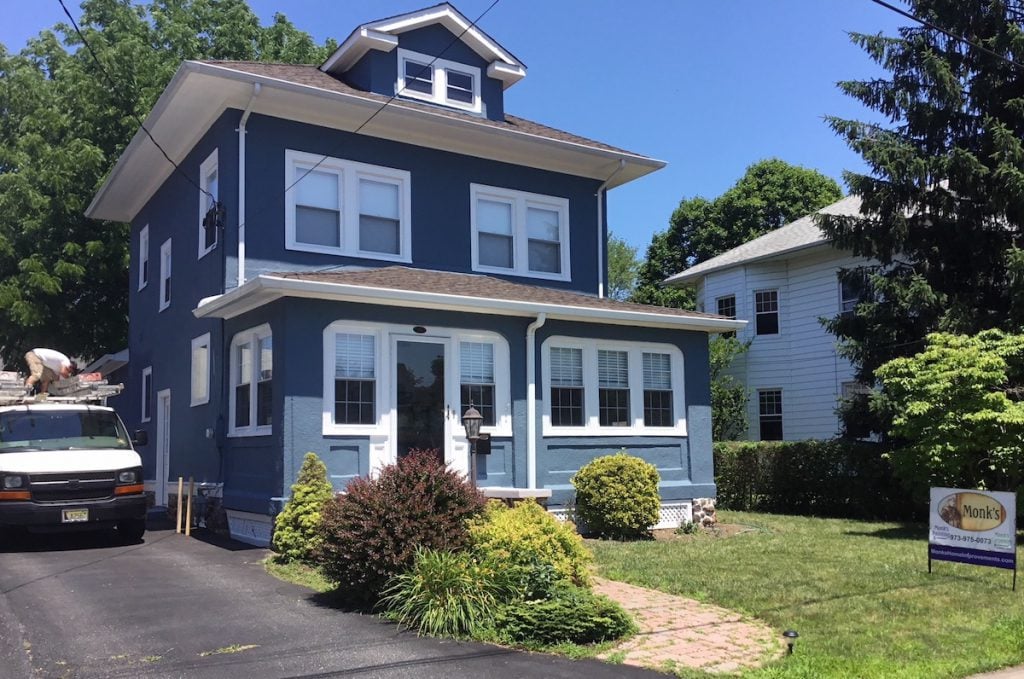 Exterior Home Makeover
Our carpentry team started this project. They began by removing all the rotted trim pieces on the home. Typically, they find a piece here and there, but this home needed nearly all the windowsills and window trim replaced. We also replaced some fascia boards. Our carpenters use composite material to protect these areas for longer than natural wood.
Once the carpentry work was complete, we called in our painting crew. They began by powerwashing the stucco home. We pressure washed the house to remove dirt, mildew, and any loose paint. Once the stucco was dry, we applied a premium primer to the exterior. The primer serves to seal the stucco and provide the paint with a clean surface to adhere to.
The painters sampled a couple of blue colors on the back of the home that the homeowners were trying to decide between. Once they selected their preferred blue, we applied it to the exterior. We painted the home with two coats of paint. The trim was painted bright white. Now, this Boonton, NJ exterior home makeover project is complete. What a difference!
Call today to set up a free estimate for your next painting or carpentry project!
Ready to learn how Monk's can help you?
Contact us for your free, no obligation consultation and estimate.
Call the office at 973-635-7900 OR