Project Info
Location: Montclair, NJ
Scope of Work: Exterior painting, Window replacement
The owners of this beautiful Montclair, New Jersey home were in need of an update. So, we began with a shingled, beige exterior and went to work. First residing the home and then painting the new exterior a brilliant navy blue, a trend popping up all over. Monks carpenters also replaced the windows which gave the home a clean and refreshed look.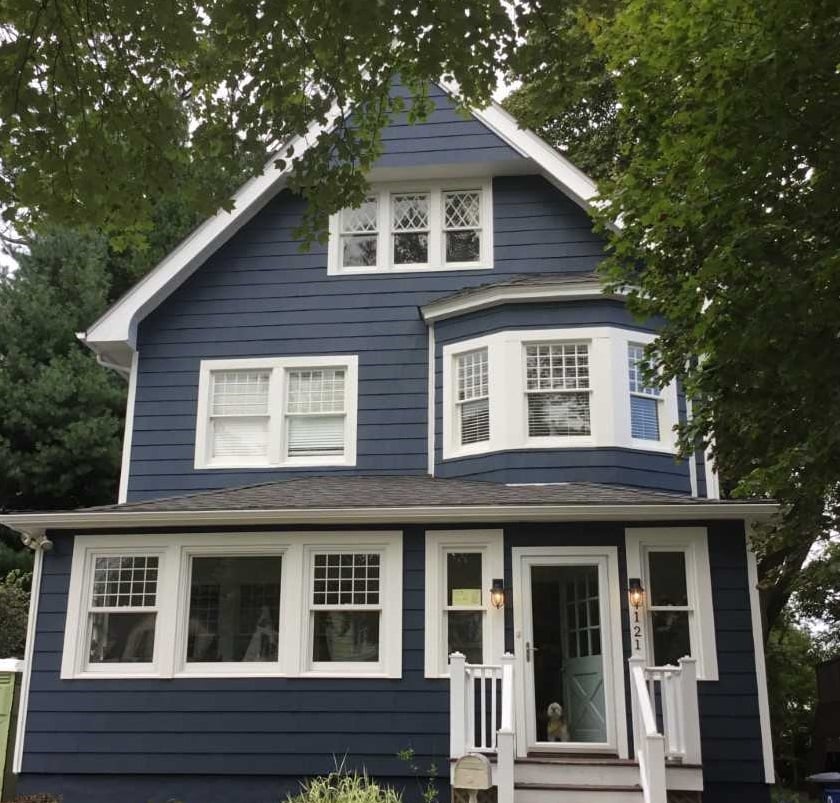 Exterior Painting In Montclair
This home started off with an outdated beige exterior and some damaged shingle siding. This project began with improving the condition of the siding of the home. As you can see, the shingles extended all the way to the ground. This had caused quite a bit of rotting in several different places. Due to this, our carpenters replaced the rotted siding. Monks carpenters went to work and resided the home with beautiful new cedar shingles.
The second task here was the windows. Our carpenters removed the existing storm windows. These will be replaced shortly with new storm windows. The homeowners purchased the windows through our design center. We carry trusted brands like Windsor, Marvin, Ideal, and Trimline.
Some of the windows did not need to be replaced. Where necessary, we removed some rotted trim and window sills. This was replaced with new trim and painted. We also deglazed some of the windows here, too. Soon, we will be returning to install new storm windows and basement windows.
Finally, our painters picked up their rollers and got to work painting the exterior. Our homeowners went from a golden beige to a bold navy blue. This is a trend you can see popping up all over. The navy contrasting with the white trim gives a home a clean and classic feel.
Call today to set up a free estimate for your next painting project!
Ready to learn how Monk's can help you?
Contact us for your free, no obligation consultation and estimate.
Call the office at 973-635-7900 OR