Project Info
Location: Montclair, NJ
Scope of Work: Full Sanding and Exterior Painting
Most exterior painting projects should last 5-7 years. Homes getting lots of direct sunshine will start to fade and peel sooner. Regular maintenance keeps your home's exterior looking great.
Unfortunately, the previous homeowners of this home did not adhere to a regular maintenance schedule. The new homeowners called us to complete a full sanding and exterior painting project.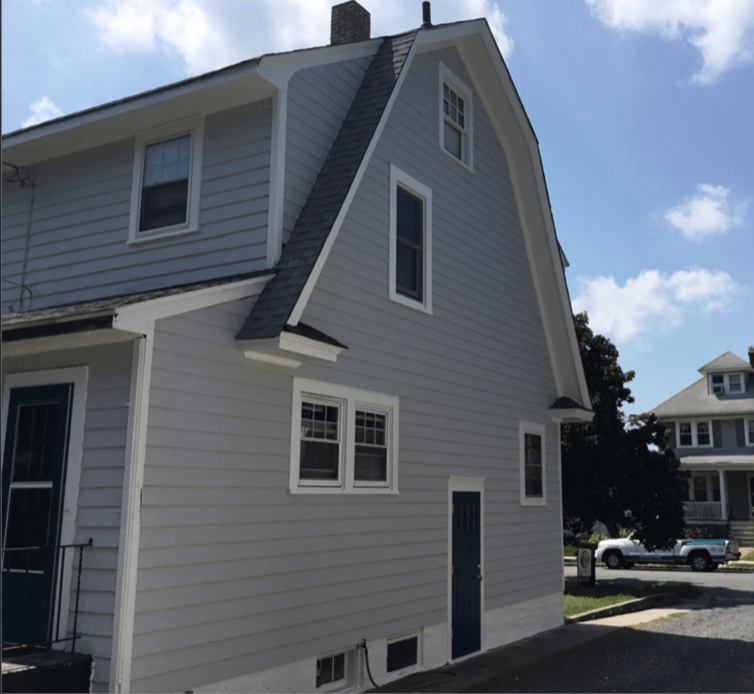 Full Sanding and Exterior Painting
Exterior painting is a necessary home maintenance project. When a regular exterior painting schedule is followed, typically a scrape and paint project is sufficient. This is when the painters scrape off any loose Exterior painting is a necessary home maintenance project.paint and spot prime the exterior. Then they paint as normal. However, when you neglect your exterior for too long, we need to do more preparation work. In this instance, we needed to fully sand the wooden siding to about 95% bare wood.
Fully sanding the wood removes all the old paint. We tent the portion of your home that we are sanding. That keeps the dust fairly well contained. We use a hand sander to carefully remove the paint layers. Now, we have a smooth, fresh surface to prime. The painters prime the entire home to seal the wood. Afterward, we apply two coats of premium exterior paint. This ensures that this painting job will last. In fact, we provide a 3-year warranty on these types of exterior painting projects. However, we expect that it should last even longer.
After this full sanding and exterior painting job, this home looks like new.
Call Monk's today to set up a free estimate for your next exterior painting project!