Project Info
Location: Florham Park, NJ
Scope of Work: Gate replacement, fence repair, staining
Any natural wood structure that is located outdoors requires regular maintenance to keep it performing properly. This wooden backyard entry gate had rotted. Monk's carpenters replaced the gate, made some fence repairs, and stained all the new portions to protect them from sun and water damage.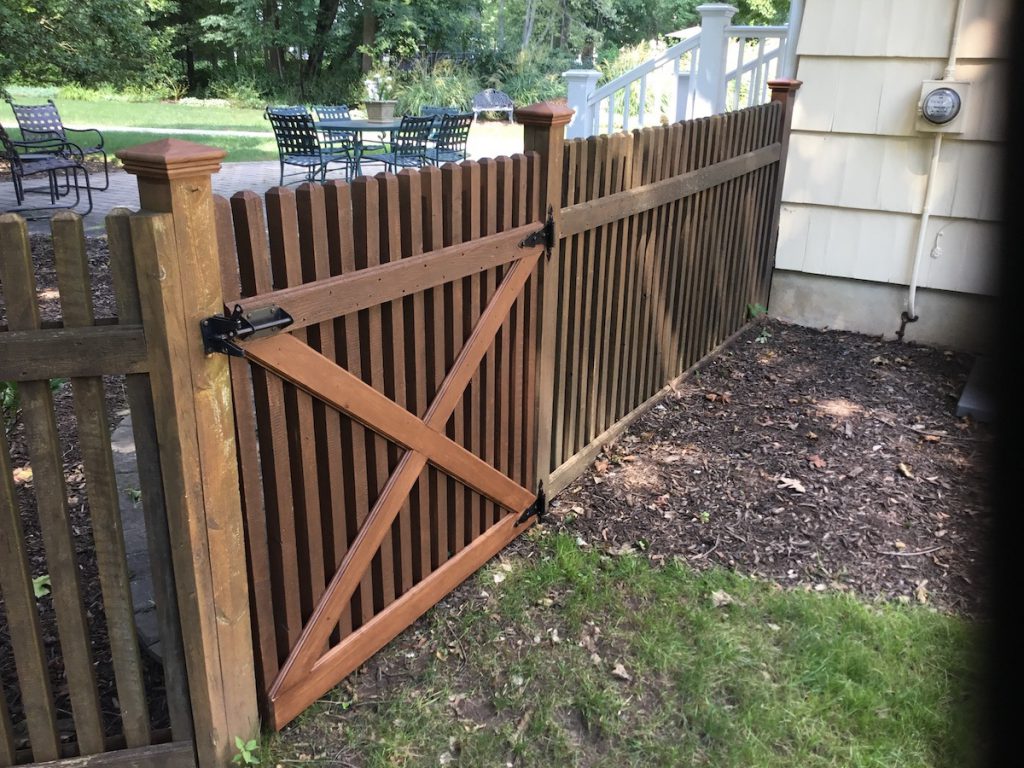 Gate Replacement and Stain
A natural wood fence is a pretty, as well as useful addition to any American home. This wooden fence and gate had been standing for quite a few years. During that time, the hinges that held the gate to the fence had rusted. Because of this, the gate didn't open properly so the homeowners removed it. Then they placed it on the grass next to the fence. Having the wooden gate up against the wet ground did not help the already troubled gate. The lower portions of the gate rotted terribly.
Monk's carpenters rebuilt the gate with all new pressure-treated wood. They also replaced the rotted post caps on the fence. The carpenter removed the rusted hinges and latch and replaced them with new hardware. The gate replacement was attached to the existing fence. Afterward, our painters stained the gate and new post caps. The homeowner requested that we stain the new pieces slightly redder than the current fence. They intend to re-stain the rest of the fence in the upcoming year, and the reddish-brown stain is what they want to use on the fence.
This small carpentry and staining project was completed quickly. This gate replacement opens and closes properly and looks great!
Ready to learn how Monk's can help you?
Contact us for your free, no obligation consultation and estimate.
Call the office at 973-635-7900 OR