Project Info
Location: Mountain Lakes, NJ
Scope of Work: Exterior painting
The Mountain Lakes home we were contracted to paint was currently a very deep yellow. We painted the home and outbuilding a blue-gray. This new color scheme is both current, while also keeping true to the original look of the Hapgood colonial home.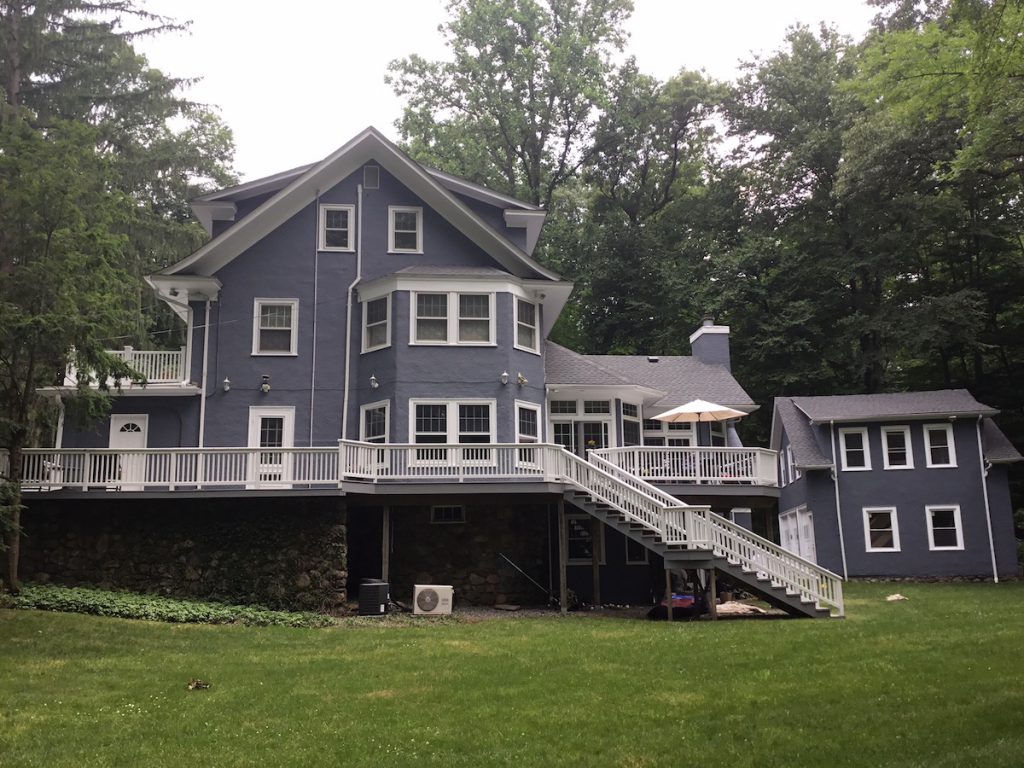 Painting a Stucco Hapgood Colonial
The borough of Mountain Lakes, NJ began as a planned community in the 1910s. Local engineer, Lewis Van Duyne, and developer, Herbert J. Hapgood set out to create a leafy community that would appeal to New York City's upper middle-class. Those seeking the clean air of the country were courted by the one hour train ride and the large family-friendly homes that were being constructed.
Hapgood was heavily influenced by the Arts and Crafts movement and Gustav Stickley. This influenced not only the architecture but also the materials used in construction. Stickley was a proponent of using local materials found naturally in the area. He also intended his Craftsman style homes complement the surrounds. In this manner, Hapgood utilized the boulderstone for foundations. Fieldstone formed chimneys. Additionally, chestnut beams and oak floors were constructed from trees cleared on site. Hapgood instructed stucco be used on the exterior. The stucco was typically a beige or brown to blend in with the natural surroundings.
We began this painting project by power washing the home and the detached two-story garage. Power washing removed the mildew, dirt, and any loose paint.
Then the painters applied a high-quality exterior primer. The primer would serve two purposes. Firstly, the primer would help to cover up the existing color. Secondly, the primer would prepare the surface for the new paint color.
Finally, our painters painted the exterior a very popular blue-gray color. The trim was all painted by hand with white.
Now, this historic Hapgood colonial home looks amazing.
Read more about Herbert Hapgood and the Borough of Mountain Lakes, NJ.
Call today to set up a free estimate for your next painting project!
Ready to learn how Monk's can help you?
Contact us for your free, no obligation consultation and estimate.
Call the office at 973-635-7900 OR