Project info
Location: Denville, NJ
Scope of Work: Exterior painting
This home was different from our typical exterior painting project. This Denville home was constructed with stucco on the front and vinyl siding on the back. We painted the stucco, vinyl, and cement foundation to give this home an up-to-date appearance.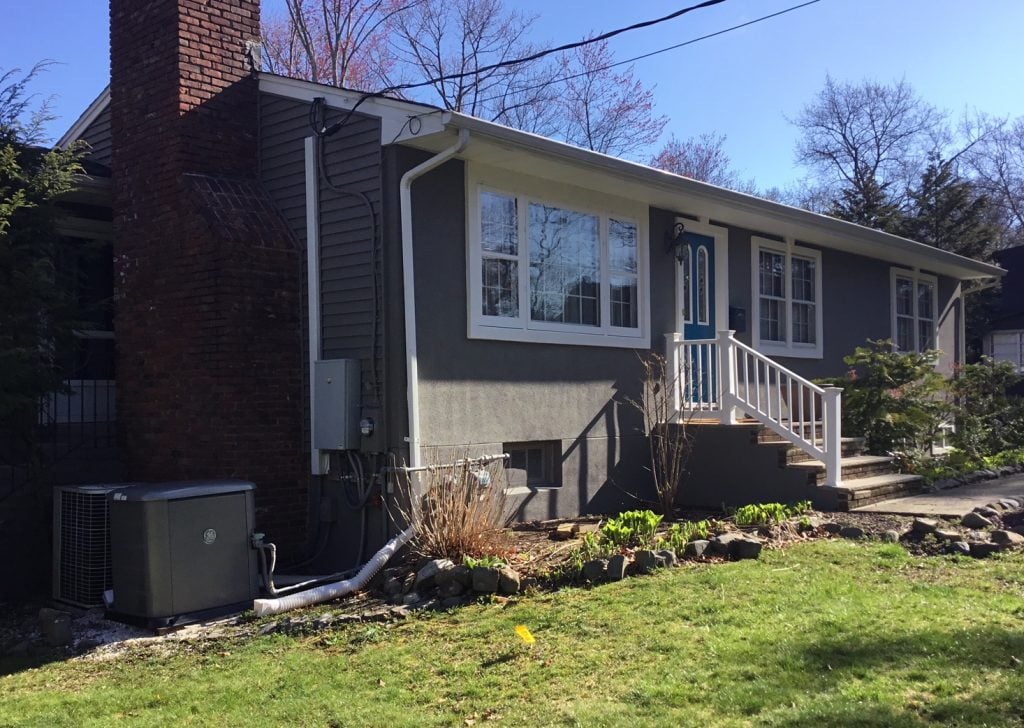 Painting Stucco and Vinyl
Vinyl siding is one of the most common exterior materials in America because it's inexpensive and durable. However, vinyl siding is typically manufactured in only a handful of light colors. Manufacturers do not make vinyl siding in dark colors. That's because darker colors absorb more heat and can cause the plastic vinyl to buckle and warp. However, Sherwin-Williams offers a paint product specifically for vinyl siding. Called VinylSafe, this product prevents heat absorption. It comes in over 100 different colors.
Thanks to this product, the homeowners could select a modern, dark gray color. Monk's painters used the VinylSafe paint for the vinyl siding. Then painters used a different Sherwin-Williams exterior paint in the same color on the stucco and foundation. The painters painted the front and back doors a bright blue. This color contrast adds visual interest.
Another color contrast was achieved by painting the trim in a bright white. Now, this stucco and vinyl home has a great new look!
Call today to set up a free estimate for your next painting project!