Project Info
Location: New Vernon, NJ
Scope of Work: Exterior Painting
If you're considering installing a new wood gate, you will need to protect it from the sun and rain. The wood gate should first be primed, and then two coats of premium exterior paint should be applied. See how Monk's protected this new wood gate in New Jersey.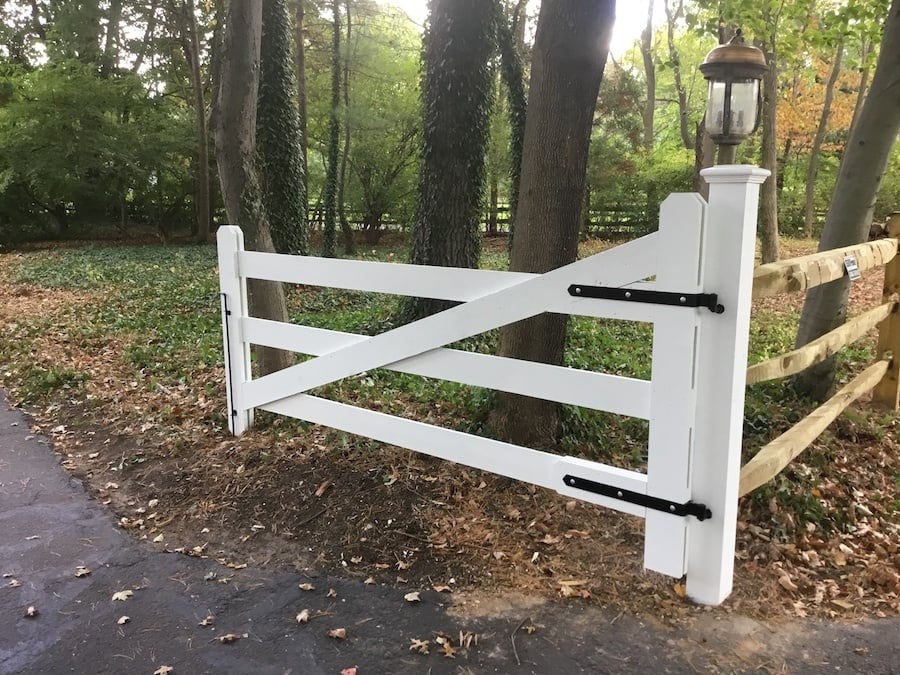 Monk's Method
New Vernon, NJ is a quaint, green town located about 30 miles outside of New York City. Part of Harding Township, the town boasts large estates and rolling hills. Many homes feature some sort of fence structure, either for practical purposes, or simply to add to the rural aesthetic.
The new wooden gate for this New Vernon home was added to close off the driveway. When closed, the gate would allow the dogs to run around the yard safely. When open, it would provide a country welcome to guests. The gate was installed adjacent to the home's split-rail wooden fence. The wooden gate was built to complement the split-rail fence but also is structurally more stable to allow for movement.
After the wood gate was installed, the homeowner's called us to paint the gate. This would help protect the wood from rot.
First, we primed the raw wood. This is necessary in order to seal the wood. Once the primer was dry, we applied exterior paint. We like using Duration from Sherwin-Williams, as we find it coats well. Two coats of Duration were applied in order to protect the new wood gate. Total project time: 2 half days to allow for drying.
Protecting a new wood gate using paint is a simple project that will keep the gate in good repair for longer.
More Exterior Painting Projects
Monk's painters are happy to beautify any exterior surface on or around your home. In addition to gates and fences, we also paint or stain home exteriors, sheds and barns, decks and entry doors. We use premium paints and prep surfaces properly to ensure a long-lasting result.
You can see our exterior painting gallery for some more examples of our work.
If you'd like a free estimate for your exterior painting project, then please give Monk's a call at 973-635-7900. Schedule your free estimate today!