Project Info
Location: Madison, NJ
Scope of Work: Exterior Staining and Painting
This backyard features an awesome swing set that has keeps the resident children entertained. It was a little worn, but still has many years of life left if maintained. Monk's painters sanded and stained the structure to keep it protected. While we were there, we also painted the stand-alone shed which was peeling badly.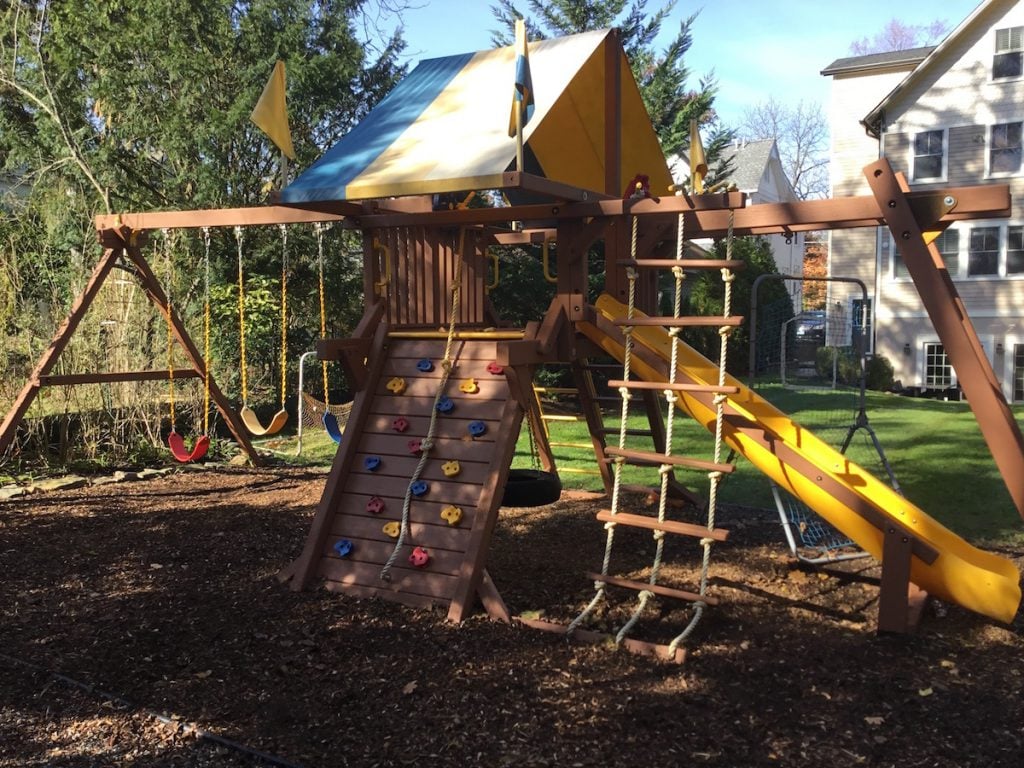 Monk's Method
For this project, we started by hand sanding all wooden components of the swing set. This included the frame, as well as the risers on the rope ladder, the climbing board, and the lookout stand. Afterward, we power washed the structure to remove any traces of dust and mildew. Once the wood was dry, we applied two coats of solid stain, lightly sanding in between each coat.
The solid stain will protect the wooden pieces from sun damage.
The small storage shed was peeling, and the wood was starting to rot at the bottom. The homeowners didn't think it was worth replacing the damaged wood, so we spot sanded and scraped the shed to free the loose paint. Then we repainted the shed to protect it from further damage.
Now this Madison, NJ backyard is looking tip-top! Time to climb and slide.
More Exterior Staining Projects
While most of our exterior painting projects involve homes, we can paint or stain any residential structure like barns, decks, and fences. Here is one dramatic cedar staining project we completed in Morristown. Here is an example of a deck staining project completed in Basking Ridge, NJ.
For additional exterior carpentry projects of all types, view our exterior painting gallery.
Please give us a call at 973-635-7900 to schedule a free estimate. You'll discuss your project with an Estimator, and receive a written quote on the spot.