Project Info
Location: Morris Plains, NJ
Scope of Work: Carpet Removal and Pre-finished Hardwood Flooring Installation.
These New Jersey homeowners wanted to update their home and give it a new and fresh look. With the help of the flooring team and the Design Center here at Monks, their goal was accomplished!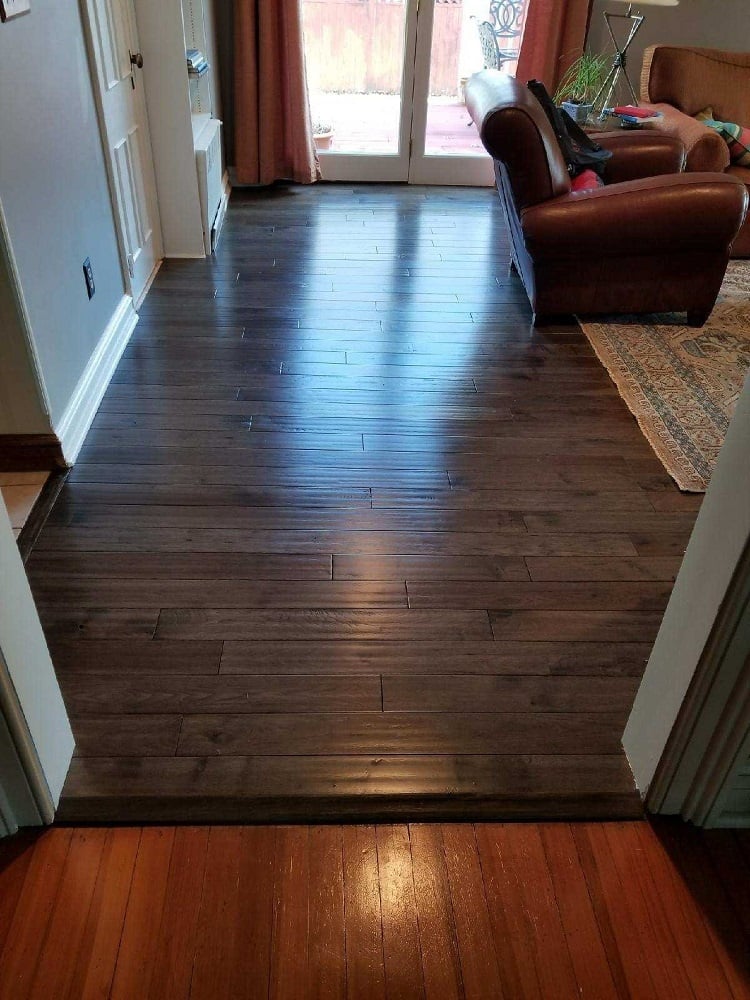 Monk's Method
These homeowners said "Out with the old and in with the new," as they were ready for a change to their Morris Plains home. One of the simplest ways to update a home is to change the flooring. The right kind of flooring can tie entire rooms together. These homeowners called the team at Monks to get the job done.
Over time, carpet experiences a lot of wear and tear. As a result, they can become worn out. These homeowners were ready to replace their worn carpeting. We took measurements and provided a quote for the replacement work.
New Flooring
Next, they met with our showroom to see the options for their new flooring. The showroom has options like prefinished hardwood, tile, laminate, and vinyl. Together, they selected a dark stained, prefinished hardwood.
Firstly, the existing carpet was removed. The sub-floor was then checked over to ensure that no staples were left behind. Then the flooring team got to work on the installation. Prefinished hardwood is installed by interlocking one piece with another. This allows for a seamless finished look. In addition, prefinished flooring arrives already stained and sealed from the manufacturer. Therefore, its ready to enjoy as soon as it is installed.
In just a day, the homeowners were able to enjoy their new flooring. If you are considering having your floors done, let Monks show you how we can help!
Ready to learn how Monk's can help you?
Contact us for your free, no obligation consultation and estimate.
Call the office at 973-635-7900 OR