Project Info
Location: Madison, NJ
Scope of Work: Floor Refinishing the Entire First Floor
This Madison, NJ home was lucky to be built with hardwood floors throughout the home. Of course, hardwood floors can get worn due to foot traffic, furniture moving, and pets. These homeowners opted to have their entire ground floor refinished. This also included the main stairway to the second floor.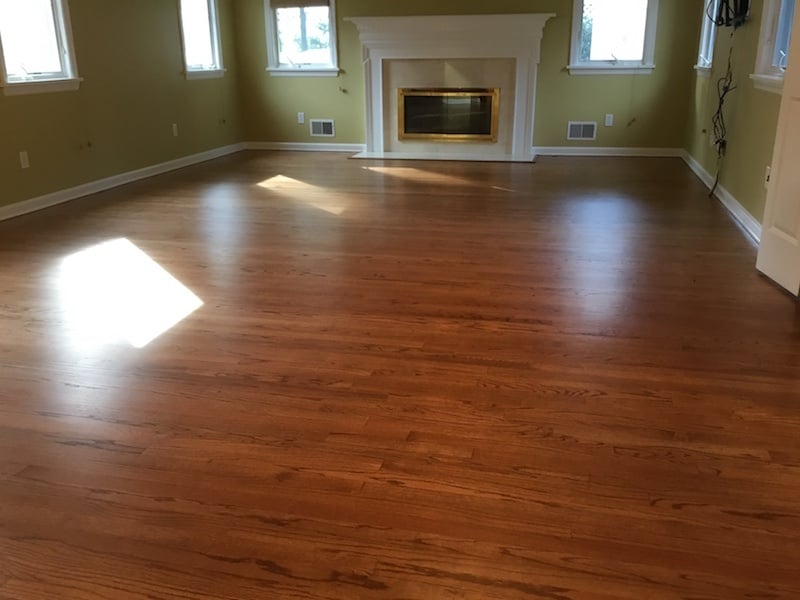 Monk's Method
When refinishing the entire first floor, the first step is clearing the rooms of all furniture and removing anything from the floor. Because you can't simply shuffle furniture around to another room, we recommend hiring professional movers to do this for you. Often times they can store it for you while the job is being done and then move it back in once the floors have dried completely.
Once the rooms were cleared, we removed the carpet runner from the stairs so they could be refinished as well. Our flooring crew then brings in their HEPA-vac dustless sanders. For larger areas, a push sander is used. For the edges, corners and tighter areas, we use hand-held palm sanders.
Once all the hardwood was sanded, we water-popped the floors. This is where we apply an even coat of water over the floors. It is done to open up the grain of the wood to better accept the stain.
Now the stain is applied. The homeowners opted for a darker stain than their existing traditional light oak floors. The stain is applied throughout, including the stair treads.
Once the stain is dry, we applied two coats of polyurethane, letting each coat dry thoroughly.
Lastly, we painted the handrail and spindles white. The contrast with the dark tread stain really is striking.
After just four days, the family was able to use their home and have their furniture moved back in. Oh, and the floors look amazing!
More Floor Refinishing Projects
Floor refinishing projects don't take long, but they have a major impact on the appearance of your home. Many times we refinish floors for new homeowners before they move in. We've been known to take keys from new homeowners at closing so we can get started immediately. Since we can also do painting and carpentry work, new homeowners love having us do it all quickly and efficiently.
To see some of our other floor refinishing projects, visit our floor refinishing gallery.
If you'd like a free estimate for a flooring project, then please give Monk's a call at 973-635-7900. Schedule your free estimate today!