Project Info
Location: Basking Ridge, NJ
Scope of Work: Tile Installation and Interior Painting
The front foyer is the entryway to your home. It is where you welcome guests. It receives a lot of traffic. However, it often is an overlooked section of the home. This Basking Ridge, NJ home had a foyer that featured dated, white square tiles. These tiles were in both the foyer and the adjacent powder room. Monk's tile specialists replaced these worn tiles with an updated look that is better equipped to deal with lots of foot traffic.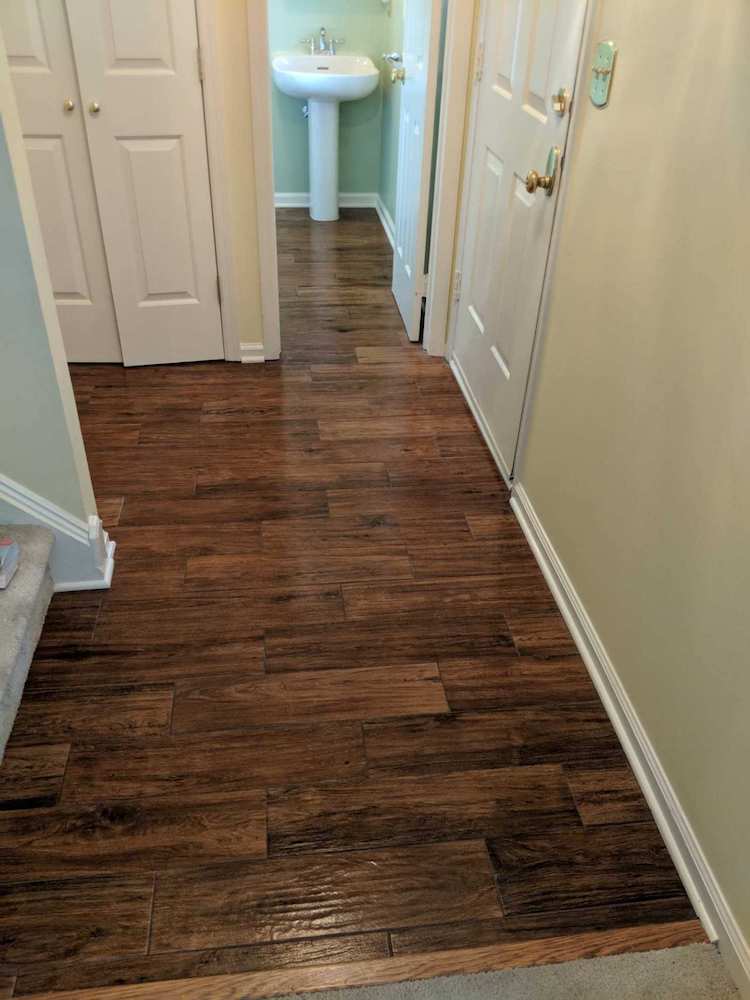 Foyer Tile Replacement
The homeowner wanted to replace her white foyer tile with something darker that would better hide any marks or dirt. While she loved the look of hardwood floors, she preferred the water-tight benefits of tile. Especially since the tile was also going in the adjoining powder room, she wanted tile for its easy-to-clean and maintain properties.
Luckily, tile manufacturers produce a variety of wood-look tile. The homeowner selected a textured tile that featured some grooves. This adds visual interest, as well as making the tile less slippery.
We started the project by removing all the pieces in the bathroom. Then, we tore up the existing tile. Then we installed the new tile flooring. Once the tile was set and grouted, we replaced the bathroom sink. We installed a new toilet in the powder room, as well.
We finished this project by painting the trim so the whole area looked finished and complete. Now this foyer tile replacement project is complete.
Ready to learn how Monk's can help you?
Contact us for your free, no obligation consultation and estimate.
Call the office at 973-635-7900 OR