Project Info
Location: Morristown, NJ
Scope of Work: Hardwood Floor Refinishing, Pre-finished Wood Installation, Baseboard Molding Installation, Quarter Round Molding Installation
These homeowners called Monk's to transform their carpeted stairs to beautiful hardwood with molding.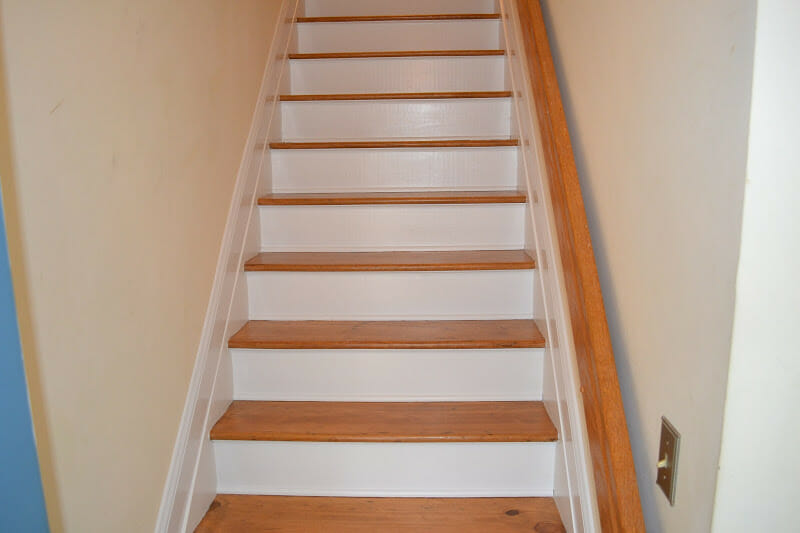 Refinishing Hardwood Stairs
When our team at Monk's arrived, the main staircase was already stripped of its carpet. Our team at Monk's ripped out the remaining carpet so that these floors could be sanded, sealed, and coated with poly to complete the hardwood floor refinishing process.
Here you see the main set of stairs after they have been sanded; an integral part of the hardwood floor refinishing process.
New quarter round moldings were installed as well.
To finish the hardwood floor refinishing process on these steps the wood is sealed and treated with coats of poly. Then the final accents are painted to achieve the aesthetic the homeowners were looking for.
The hardwood of these stairs was finished to match the existing wood floors in the house. Besides the quarter round moldings, our team at Monk's also installed new baseboard moldings.
Prefinished hardwood flooring was brought in and installed on the landings.
In only four days the stairs in this Morristown, NJ home had been transformed from shag carpet to beautiful hardwood floors!
Learn more
More Projects: foyer renovation and railing installation or this custom railing and column replacement by Monk's.
If you are considering hardwood floor refinishing we would like the opportunity to tell you why we think we are the best hardwood floor contractor in Morristown, NJ 07960.
To discuss your project and receive a free estimate, call 973-975-0044 today.