Project Info
Location: Basking Ridge, NJ
Scope of Work: dustless floor refinishing
This Basking Ridge condo was starting an interior painting job with Monk's when they asked about the condition of their wood floors.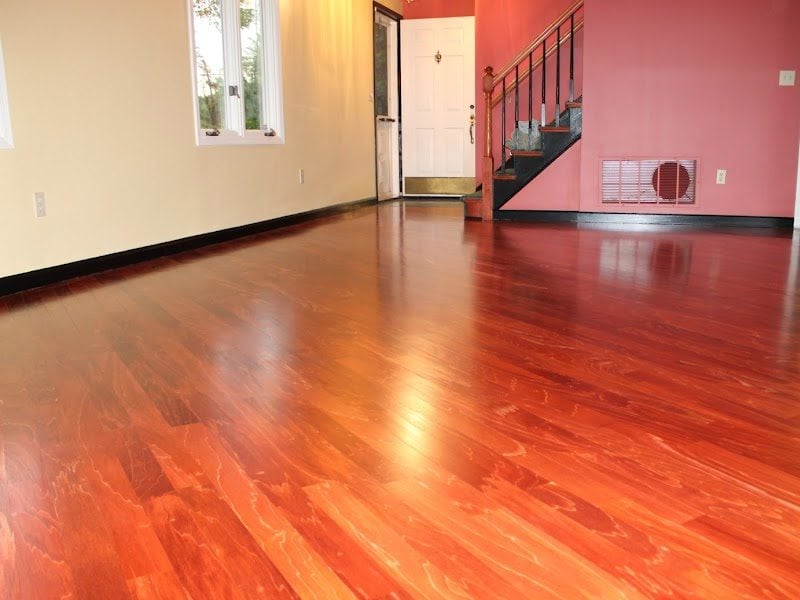 Monk's Method
These wood floors were suffering from severe sun damage. The home's sky lights and sliding glass doors had resulted in many years of sun exposure, which in turn had discolored the cherry floors.
The homeowners were unsure as to whether or not their floors could be refinished, seeing as they had been refinished once before. Some hardwood like oak can be refinished multiple times, but these were cherry.
Refinishing Cherry Floors
However, after a careful examination our team at Monk's determined that these floors could be restored and made to look as good as new. A dustless floor refinish was in store for this home! A dustless floor refinish is a great way to spruce up a home. It is practically inevitable that over time your home's floors will become stained, discolored, and that the finish will wear off. Our team can sand and refinish your floors in only a matter of days! If your floors are beyond repair and the only option is to install new hardwood floors, our team at Monk's can do that as well. Our team is happy to consult with you to determine the state of your floors and whether refinishing or new floors is the path for you.
We have perfected our method of refinishing here at Monk's, making it a pain-free experience for the homeowner. A dustless floor refinish like this job can be done in only three days! Our process includes stripping the current floors (if you have carpet we can get rid of that too), sanding, refinishing, and coating with sealer and poly. In this particular job, we applied one coat of sealer and two coats of poly.
Oftentimes people will choose to redo their hardwood floors and repaint their interiors at the same time. Here at Monk's we offer both services and can easily plan a project that will freshen up your walls and your floors!
With only a little bit of the floor done we can already see the great impact that refinished floors can have on a room!
When we say dustless– we mean dustless! Look at the two images below to see a ledge in the room being worked on before and after.
Before…the ledge is dustless!
And after…the ledge is still dustless!
Sparkling floors, and another job well done by Monk's!
Learn more
Another job well done by Monk's! If you are considering dustless floor refinishing, we would like the opportunity to tell you why we think we are the best dustless floor refinishing contractor in Basking Ridge, NJ (07920)! Call us at 973-975-0044 to schedule your free estimate.