Project Info
Location: Montville, NJ
Scope of Work: Hardwood Floor Refinishing
This Montville, NJ home had a beautiful old hardwood floor in the living room. The floor was 200 years old, in fact. The long use of an area rug caused discoloration and damage in the center portion of the floor. The homeowner's called Monk's to help with this home improvement.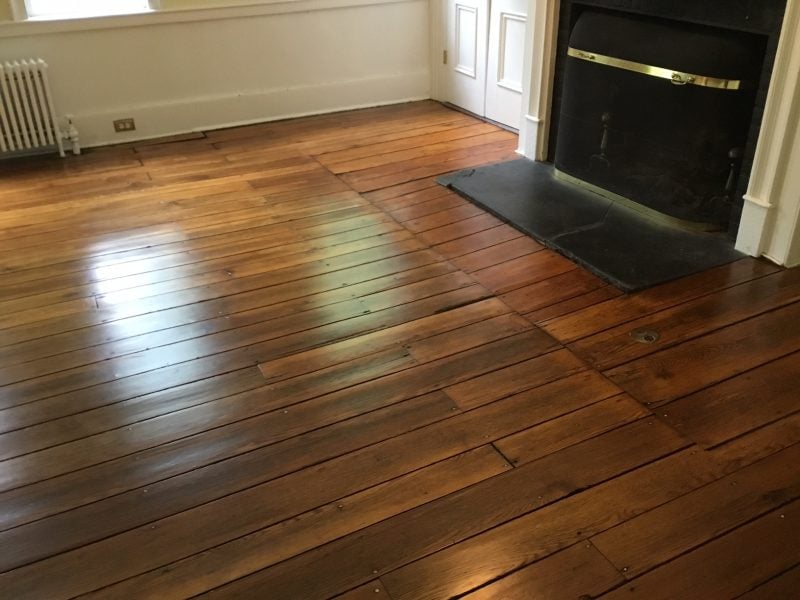 Monk's Method
The beauty and character of older homes is something you just can't find in new builds. Quirky built-ins, intricate molding, and the use of all natural materials lend to the charm of owning an older home. However, with all those older, natural materials, some maintenance will certainly be required.
After clearing the room, we began this floor refinishing project a little differently than is typical. Typically, we use upright floor sanders with HEPA filters and use hand sanders around the edges and in the corners. However, with these old floors, we hand sanded them entirely.
After removing any remaining dust, we applied a stain to best match the floors throughout the home. As you can see, different wood was placed around the hearth of the fireplace. Because different woods were used, the stain will never be a perfect match. Regardless, we did our best to evenly stain the old hardwood floor. Once the stain had dried completely, an oil-based polyurethane was applied. While this poly takes longer to dry than water-borne, it will add a soft amber tint that complements these floors.
More Floor Refinishing Projects
We can repair and refinish any type of hardwood floors. We've sanded out pet stains, water damage, and discoloration. To see some more of our floor refinishing work, visit our flooring gallery. Or, learn more about hardwood floor refinishing.
Then call Monk's at 973-635-7900 to schedule your free floor refinishing estimate today!