Project Info
Location: Randolph, NJ
Scope of Work: Stair refinishing
A sweeping, curved staircase is the stuff of fairytales. For these fortunate Randolph, NJ homeowners, their curved staircase was a reality. However, it had been covered in high pile carpet and featured dated oak railings. The homeowners wanted to update the look of their foyer and also uncover the hardwood stairs underneath. Monk's flooring team provided stair refinishing and transformed the entryway of the home.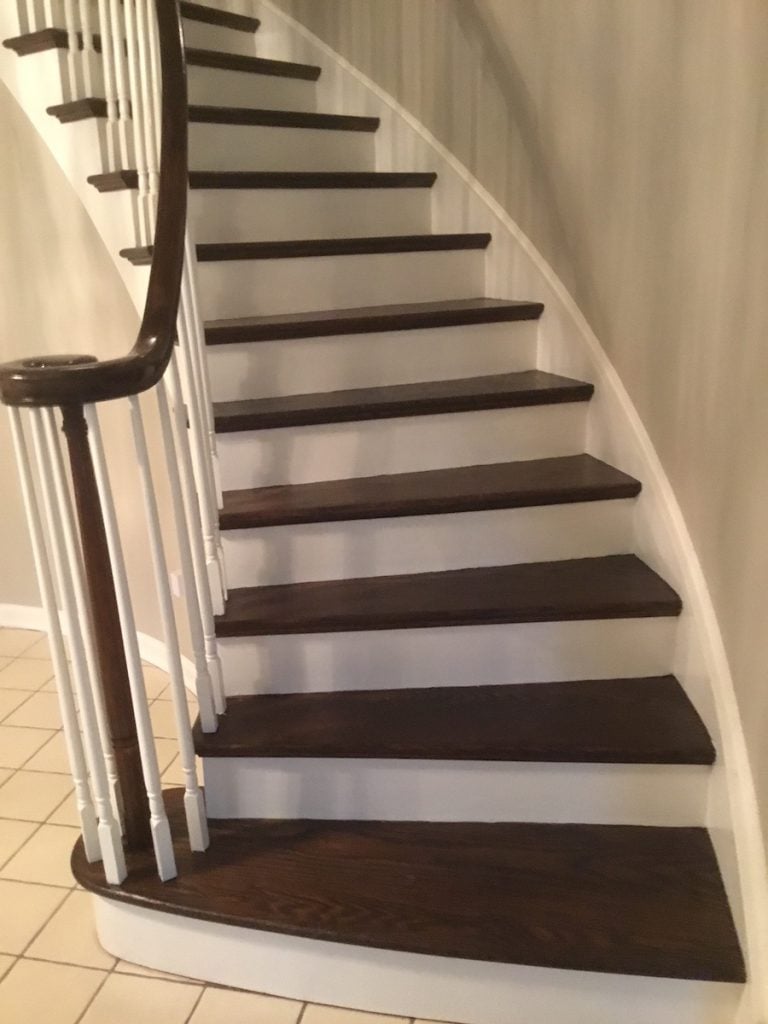 Stair Refinishing Project
The Monk's flooring crews are dedicated teams who only handle flooring projects. Whether it be floor installation or dustless hardwood floor refinishing, they are the experts. This was a smaller project in terms of square footage but required more careful sanding and staining than an open floor.
The crew began by removing the carpet from the stair treads. It was a thicker pile carpet and was installed around the spindles. Once this was removed, we began the refinishing work. The team began by sanding the treads with a hand sander. The crew stripped and lightly sanded the newel posts and railings. After they removed any remaining dust, they applied the stain. The homeowners wanted to change the light oak to a dark stain. Because of the deep color, we applied multiple coats of the stain to the treads and handrails. Then we finished by sealing everything with a coat of polyurethane. Lastly, the painters came in to complete the job. They painted the stringers, risers, and balusters a bright white. The bright white contrasted the treads and railings to make this stair refinishing project really pop.
Now this dated staircase looks amazing and very on-trend.
Ready to learn how Monk's can help you?
Contact us for your free, no obligation consultation and estimate.
Call the office at 973-635-7900 OR