Project Info
Location: Mendham, NJ
Scope of Work: Sheetrock Refinishing, Interior Painting, Epoxy Floor Refinishing, Carpentry, Custom Built Cabinet
The garage of this Mendham, NJ home had never been completely finished. The Monk's team spackled, primed, and painted the sheetrock, applied epoxy to the garage floors and built a custom utility cabinet. In only 1.5 weeks our team was able to revamp this home's garage.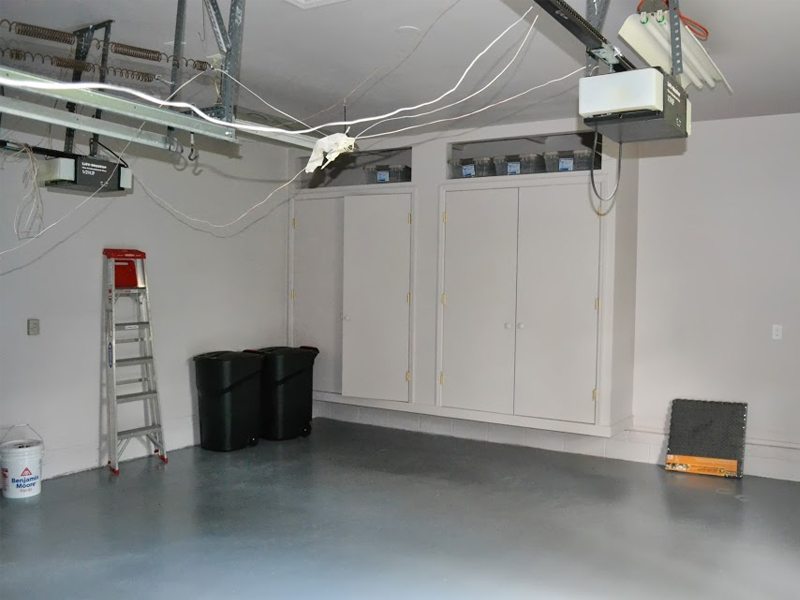 Monk's Method
Epoxy is a great way to fortify your garage floors. The catch is that floors can only be finished with epoxy when they have never before been painted. Luckily that was the case with the garage floor of this Mendham home. The unsealed cement floors of this garage were worn and stained. Epoxy floor sealing would not only improve the look of these floors but also give them a great deal of added protection.
The first step in epoxy floor refinishing is to mop the floor down with muriatic acid. This acid opens up the pores of the concrete, which prepares the floor for the next step of the process. The muriatic acid will sit and soak before it is thoroughly cleaned off with a power washer. We then apply the epoxy to the prepped concrete floor. At this point, the epoxy is really able to adhere to the concrete. We use a small brush to go along the edges, ensuring that every space is covered. After the first coat has dried, we add a second coat. You do have an option to add a third clear coat for added protection.
Sheetrock Install & Utility Cabinetry Build
Besides refinishing the garage floors with epoxy our team at Monk's also improved this garage by fixing the existing sheetrock. Since the garage had never been truly finished the sheetrock was in desperate need of some attention.
Our team at Monk's spackled, primed, and painted the sheetrock.
The last component of this garage renovation was the custom utility cabinet that our team built to house the homeowner's tools. Our team built the cabinet out of plywood; constructing multiple shelves and sturdy doors.
In only one and a half weeks this garage was transformed into a refinished space with new epoxy floors, finished sheetrock, and a new custom-built utility cabinet.