Project Info
Location: Basking Ridge, NJ
Scope of Work: Interior Painting
Our team at Monk's was called in by the owners of this Basking Ridge, NJ 07920 home to repaint their front foyer, staircase, and upstairs hallway. In only three days these spaces were spackled, smoothed, primed, and painted.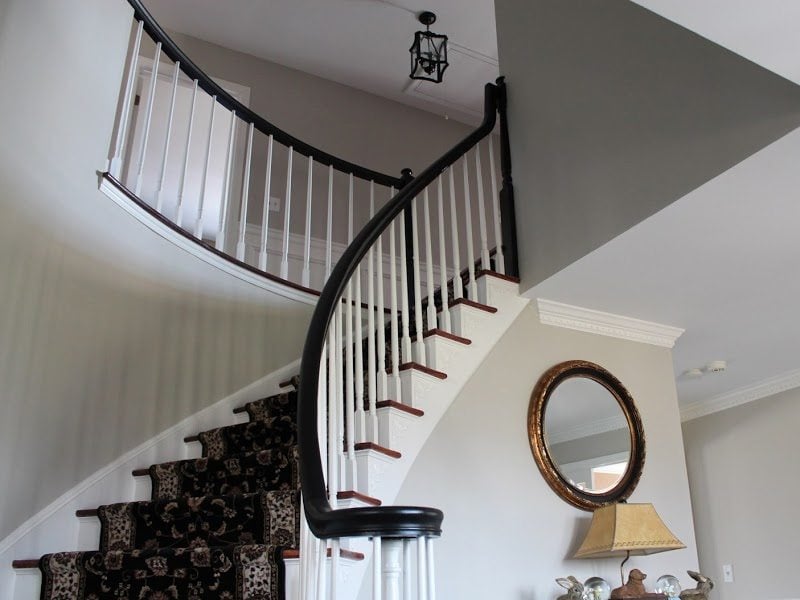 Monk's Method
These homeowners tested the color out on their wall before settling on their final decision. Monk's is always happy to help the customer come up with the look that is just right for their home.
After a color was selected the room was prepped for painting. Our team always makes sure to thoroughly protect the home during one of our projects. The doors are taped off to prevent dust from traveling into the other rooms, and paper is laid out on the floor.
The light fixtures are also wrapped with plastic to provide protection.
Due to some hanging pictures and other wear and tear, the stairway wall of this home was particularly scratched up. Our team at Monk's removed the picture hooks and thoroughly scraped and spackled the wall to ensure that the surface would be smooth when the primer and paint was applied.
After the surface was sufficiently smoothed all walls were given a coat of primer. After the primer was applied the walls, ceiling, and trim were finished with two coats of paint.
To give the space an even more finished look the railing tops were finished with a coat of satin impervo oil based finished; achieving a sleek, modern look.
In only three days this space was completely transformed!
Learn more
More Projects: Interior Painting Gallery
Other Types of Work: interior painting and crown molding installation project, custom mantel surround and built in bookcase project , cedar siding replacement and exterior painting project
If you are considering an interior paint job we would like the opportunity to tell you why we think we are the best interior painting contractor in Basking Ridge, NJ 07920.
To discuss your project and receive a free estimate, call 973-635-7900 today.