Project Info
Location: West Orange NJ
Scope of Work: Wall Repair and Interior Painting
This home featured a number of lovely features typically only found in older homes in the area. The upstairs hallway features a built-in linen closet and storage area and wrap-around railing. However, older homes also come with normal wear and tear. The home's plaster walls were cracked and had some surface damage. The front door was cracked and peeling in areas.
We were able to repair everything a repaint the hallways to give this West Orange home a fresh, updated look!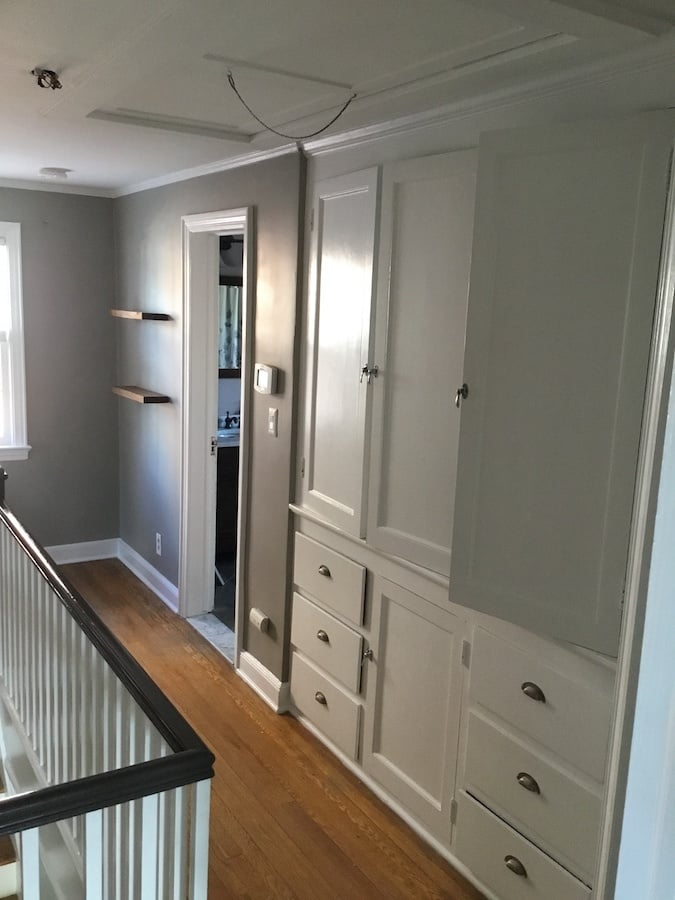 Monk's Method
Painting new walls is a pretty quick and easy job. However, painting damaged walls, built-ins, railings, and spindles, is a lot more time-consuming and considerably more difficult. Monk's painters began by assessing the walls to see the condition and the type of paint that was used previously.
After removing all the outlet and duct covers, the painters began by prepping the walls. The painters patched all the damaged areas on the walls and front door. Then the painters hand sanded everything. Where necessary, the painters repeated this step until smooth and even. The painters then primed the walls, door, and banister. Painters gave the walls two coats of premium interior paint. We typically recommend (and primarily use) Sherwin-Williams.
After just two days, this interior painting job is complete and looks amazing!
More Interior Painting Projects
Did you know that Monk's started out as a painting company? We pride ourselves on delivering the best painting projects. You can see some of our interior painting work at our interior painting gallery.
If you are in need of any type of painting project, please give us a call at 973-635-7900. We'll provide you with an appointment for free estimate where you can discuss your project with an Estimator.