Project Info
Location: Morristown, NJ
Scope of Work: Interior Painting
Painting cabinetry is a fast and affordable way to update the look of your kitchen or bathroom. It is very common for Monk's painters to paint kitchen cabinetry. So many homeowners are looking to brighten their dark cabinets to a lighter color. However, if a bathroom vanity is in good condition, it is perfectly suited for a paint update as well.
Monk's painted the bathroom vanities in this lovely, large master bathroom so they would match the rest of the bathroom.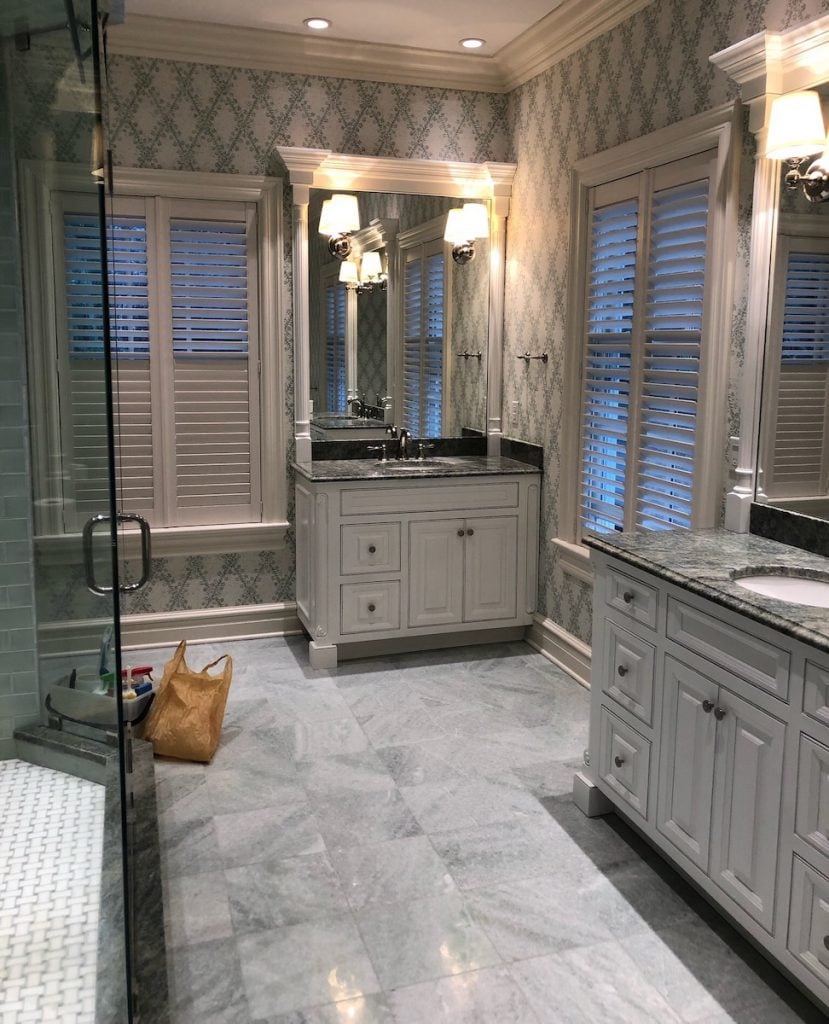 Crisp White Painted Bathroom Vanities
This master bathroom was a huge room featuring an oversized shower, his and hers vanities, beautiful crown molding and oversized windows with plantation shutters. The shutters, toilet, and trim were all white. The shower and floor tiles were a mixture of white and grey tones. The his-and-hers vanities were quality pieces of cabinetry. They featured built-in mirrors, lovely trim work, and pretty granite countertops. However, the wooden cabinetry had a light yellow color with a brown glaze. This gave it an antiqued look. While on its own the vanities were lovely, they didn't match the rest of the bathroom.
Our painters removed all the doors and drawer fronts. They removed the hardware and hinges. The cabinetry was hand-sanded. Then the painters primed the cabinetry. This was followed by another round of hand-sanding. The chosen white color was applied using a cup-spray. This prevents any visible brush strokes and gives a factory-finish appearance. Another round of sanding and spraying was done.
In just two days these bathroom vanities were a cool white to match the rest of the master bathroom.
Ready to learn how Monk's can help you?
Contact us for your free, no obligation consultation and estimate.
Call the office at 973-635-7900 OR