Project Info
Location: Chatham, NJ
Scope of work: Interior Painting
The sanctuary in the Gloria Dei Lutheran Church in Chatham, NJ was freshened up with an interior painting project by Monk's. One of our Monk's painting crews, managed by Angelo Santoro, took on the task.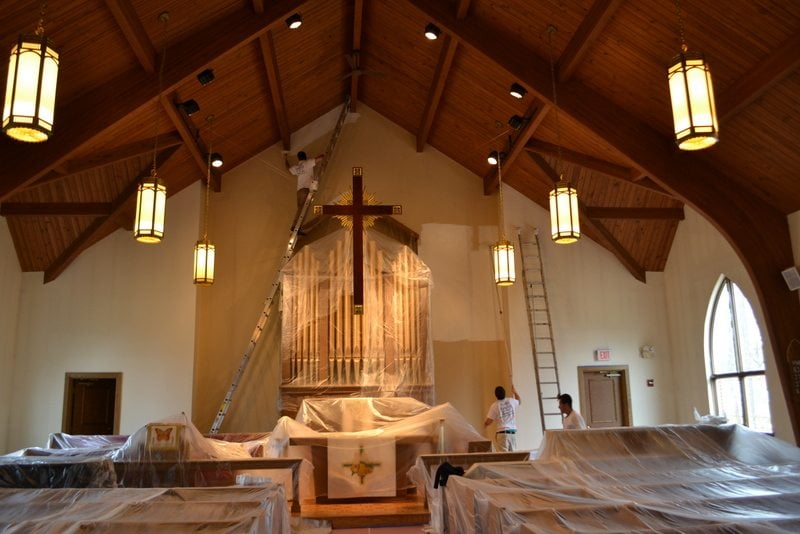 Monk's Method
The church hallway was prepped to protect the window and door trim, as well as the lighting fixtures. This work was carefully done but not as delicate as what was required in the sanctuary.
The pews in the nave were all covered with protective plastic. The organ pipes, pulpit, and altar were also carefully protected. Resin paper was laid out along the floor to protect the flooring from paint, as well as our ladders and equipment.
The painting above the altar required careful work. The beautiful wood ceiling, organ pipes, hanging cross, and lighting fixtures required careful maneuvering.
We are very proud of the finished product and hope that Gloria Dei and its congregation will enjoy the work for years to come.
Because Gloria Dei Lutheran Church is a non-profit organization, Monk's Home Improvements was able to donate a portion of the labor costs. We have donated labor to help paint the New Vernon Fire House and the Central Avenue School in Madison, NJ to help prepare their school mural. If your organization could use some assistance with a painting project, please contact the Monk's office at 973-635-7900 to discuss the details and see if we can help.