Project Info
Location: Montclair, NJ
Scope of Work: Interior Carpentry, Interior Painting, Floor Refinishing, Shutter Installation
This home needed some work done before putting it up for sale. Since Monk's provides many services, we were able to check off every item on the to-do list. See the changes that we made to both the exterior and interior of the home. Now this home should fetch top dollar.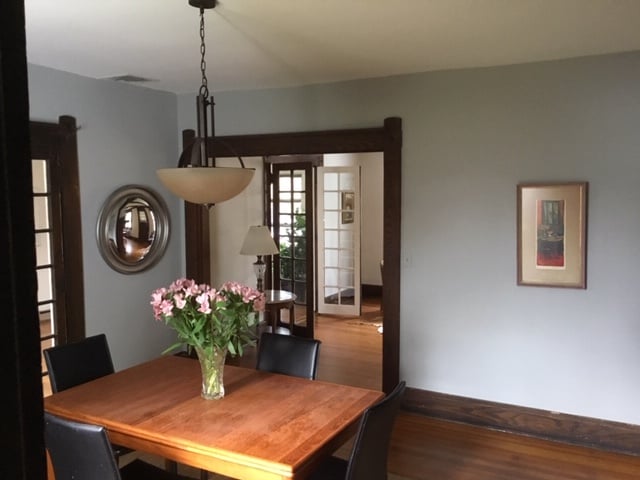 Monk's Method
We started prepping this home for market in Autumn. Therefore, we got to work on the exterior projects first. The exterior projects including power washing the entire house and painting the exterior trim. The homeowners selected and purchased shutters from our showroom. We painted them a distinctive robin's egg blue color and installed them.
Then we moved to the interior of the home. There were a number of repairs and updates that were required. We started by making ceiling repairs in the dining room and living room. First, we removed the existing drop ceiling tile and cracked plaster ceiling. We replaced these ceilings with new sheetrock.
Then we got to work on the floors. We installed new hardwood flooring in the living room. All existing hardwood floors were screened and coated with polyurethane.
In the kitchen, we replaced the rusted, broken exhaust hood with a brand new one. The dark cabinetry was painted white to match the appliances and to give the room a new, clean appearance.
Lastly, we painted the entire interior. This included walls, ceilings, trim, and wood paneling in the sunroom. What a difference!
Now the prepping is complete and this Montclair, NJ home is ready to be put on the market.
Learn more
Monk's can provide an end-to-end solution for any home remodeling project. So, we are full-service, from design through to installation. See more of our kitchen remodeling projects in our photo gallery. Then learn about our complimentary design services offered at one of our two showrooms located in Morristown and Fanwood, New Jersey.
Call 973-635-7900 to schedule an appointment to discuss your remodeling project.