Project Info
Location: Madison, NJ
Scope of Work: Addition, Kitchen Remodel, Floor Install & Refinishing, Tile Installation
In order to increase the size of their kitchen, Monk's extended the back of this Madison, NJ home. We reconfigured the placement of the bathroom and added a coat closet and new portico with stairs to the driveway.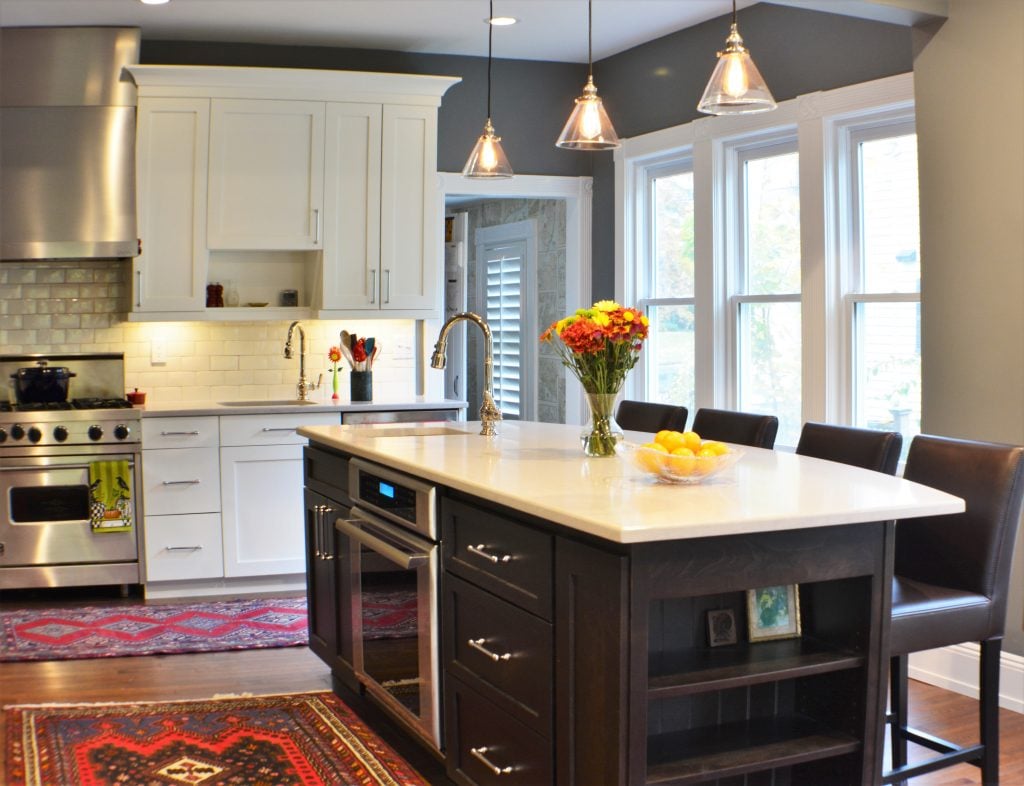 Monk's Method
The homeowners of this beautiful Madison, NJ, house loved many things about their home and its convenient location, including the short walking distance to downtown! What they didn't love was that their existing kitchen lacked counter space and room for their family and friends to gather. The family worked with Monk's renovation experts to plan an extension that would open the back of the house for a large eat-in kitchen, new bathroom and coat closet.
To begin, we removed the deck off the back. We cleared the area to prepare the space for where the extended kitchen would reside. The addition, along with new portico and stairs, was completed in about 8 weeks. You can see a time-lapse of the addition project in the video here.
In the interior of the new addition, we also made some substantial changes. The entryway to the outside was moved over the left, closer to the driveway and detached garage. A coat closet was installed adjacent to the back door. Also in this nook, a large powder room was installed. New pre-finished hardwood floors with a rich, dark stain were installed throughout the entire space.
In the kitchen, the existing cabinetry remained, but one wall of soffits were removed to make way for crown molding. A new, large island was built. It contains a sink and room for 4 to sit comfortably. A wall of cabinetry was also installed opposite the island providing additional storage and counter space. A TV was also installed giving those sitting on the bar stools a perfect view.
Additionally, new windows were installed, as well as decorative window trim to match the rest of the home. A paint color, suggested by a Monk's Kitchen and Bath Designer, finishes off the room. The homeowner commented that it is one that they never would have selected, but that she loves it. So do we.
Learn More
Looking for even more kitchen inspiration? Check out additional before and after photos from recent Monk's kitchen remodeling projects.
Learn how our kitchen remodeling experts in Northern New Jersey can help you expand or make the most out of your kitchen footprint, increase your resale value as well as your enjoyment of your home. To schedule a no-commitment consultation and receive a free estimate, call 973-635-7900 or contact us online.