Project Info
Location: Denville, NJ
Scope of Work: Kitchen Makeover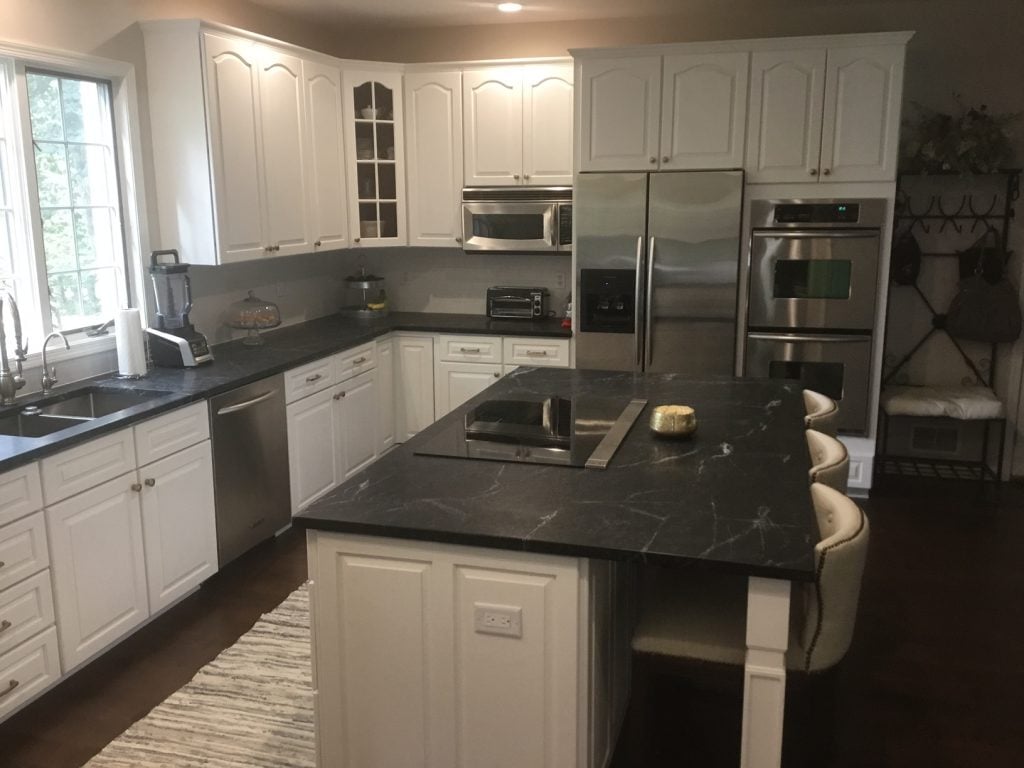 Monk's Method
Here at Monk's, we define a kitchen makeover as a project that may involve swapping out the countertops, backsplash, and painting the cabinetry. The kitchen footprint remains intact. We define a kitchen remodel as a project that may include a new kitchen layout, as well as new cabinetry. Based on those loose definitions, this Denville NJ kitchen makeover is really something in between these two types of kitchen projects.
We painted the existing cabinetry but replaced the island entirely with new cabinetry and soapstone countertop. We removed a closet pantry and converted the space into a new wet bar. To make up for the lost storage space, we installed a cabinet pantry in the opposite corner of the kitchen.
This part makeover, part remodel project started with obtaining a permit. The homeowners wanted to create a wet bar, replacing a closet pantry. Therefore, new water supply and drain lines would need to be added to accommodate this request. Any time new plumbing or electric is involved, townships require a permit and inspections.
Our carpenters began by removing the pantry closet and prepping the space for the plumber. While the plumbing and inspection process was happening, we continued working. We removed and disposed of the irregularly shaped island in its entirety. We also took off all the door and drawer fronts from the upper and lower cabinetry. The painters then created a spray room in the garage where they cup-sprayed the doors and drawers.
While the painters were at work, the flooring crew removed the ceramic tile floor. Then they replaced the tile with dark, prefinished hardwood floors.
The homeowners ordered new cabinetry to build the new wet bar, new island, and pantry cabinet. They ordered cabinetry to match their existing kitchen cabinets. Our painters cup-sprayed these units as well, so everything had a uniform appearance.
Carpenters put in a new island, pantry, and wet bar. The island will now have a proper seating area with legroom. We also installed a wine refrigerator and sink in the new wet bar.
The painted doors and drawers were reattached to the cabinetry frames and the older cabinet frames were adjusted. Then the countertops were templated and a week later the new soapstone countertops were installed. Soapstone is a beautiful, natural material. You can elect to oil it regularly for a darker appearance, or let it age naturally to create a patina.
Lastly, Monk's installed a new backsplash. Now this gorgeous Denville NJ kitchen makeover is complete!
More Kitchen Projects
Monk's Designers and Project Managers can help with any type of kitchen project. We'll design your layout, cabinetry configuration, and help you select and coordinate all your materials including countertops, tile, hardware, and fixtures. Our Design services are always free.
Plus, your Project Manager will secure permits and manage all the tradesmen. We order, deliver and install.
If you'd like a free estimate for a home improvement project call us at 973-635-7900. Schedule your free estimate today!