Project Info
Location: Denville, NJ
Scope of Work: Kitchen Remodel
This kitchen was more than ready for a remodel. The galley kitchen featured lots of originals, like linoleum floors and Formica countertops. The homeowners met with a Designer in our Morristown, NJ showroom, and she created a cabinetry configuration that would provide much more storage, and brighten up the room tremendously. She also helped the homeowners select quartz countertop, tile backsplash, fixtures, hardware and new flooring.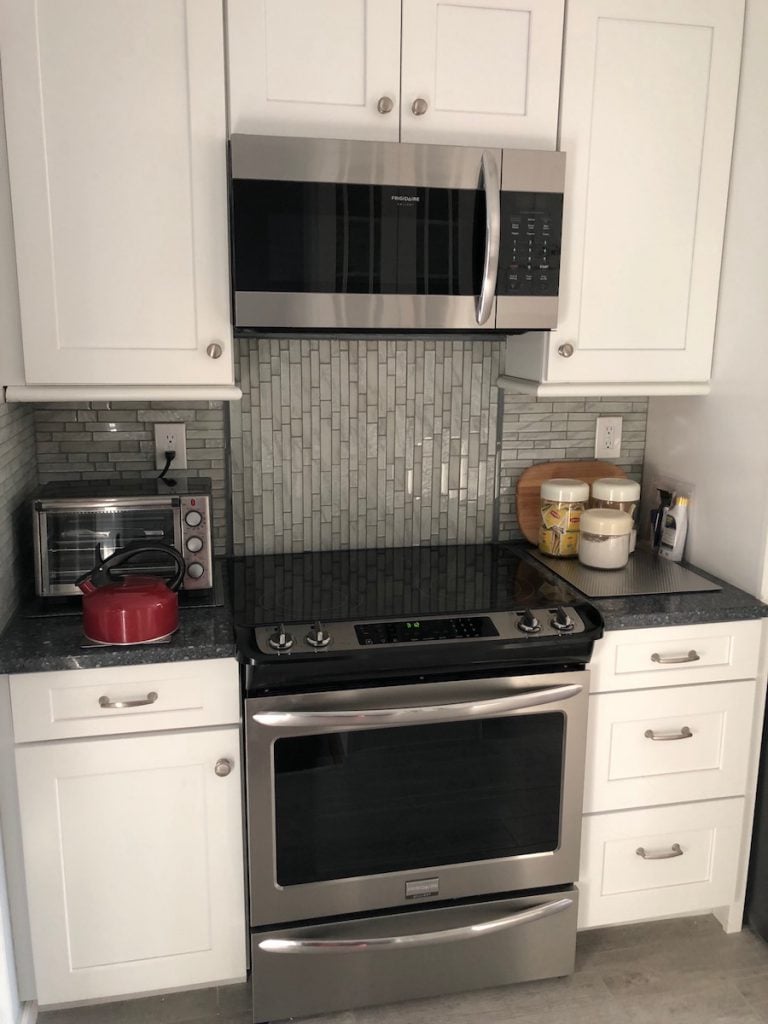 Monk's Method
Since the plumbing and electric aren't changing in a kitchen makeover project, no permits or inspections are required. This shortens the duration of the project while also reducing costs. However, makeovers still make a great visual impact.
The general footprint of this kitchen needed to remain. However, we were able to make some improvements that would make a big difference in the day-to-day function of the room. First, we recommended removing the soffit above the existing cabinetry in order to put in larger upper cabinets. There was also a small desk area at the end of the one wall of cabinetry. The desk was never used, so we replaced the desk with proper upper and lower cabinetry.
The homeowners were over their dark oak cabinets. They selected a creamy white cabinet as the replacement. The yellow Formica countertops were replaced with a dark quartz countertop. We replaced the Formica backsplash with a subway glass mosaic tile. We used the same tile behind the range but installed it vertically to provide a focal point.
The linoleum floor was also replaced with porcelain tile. The homeowners selected a medium grey that complements both the light cabinetry and the dark countertops. An added bonus is that they hide dirt.
What an amazing difference!