Project Info
Location: Summit, NJ
Scope of Work: Kitchen Makeover
This kitchen featured dark cherry cabinetry and complementary countertops and backsplash. The homeowner wanted to brighten the room and give it a more modern look. Monk's transformed the existing cabinetry and replaced the countertop and backsplash.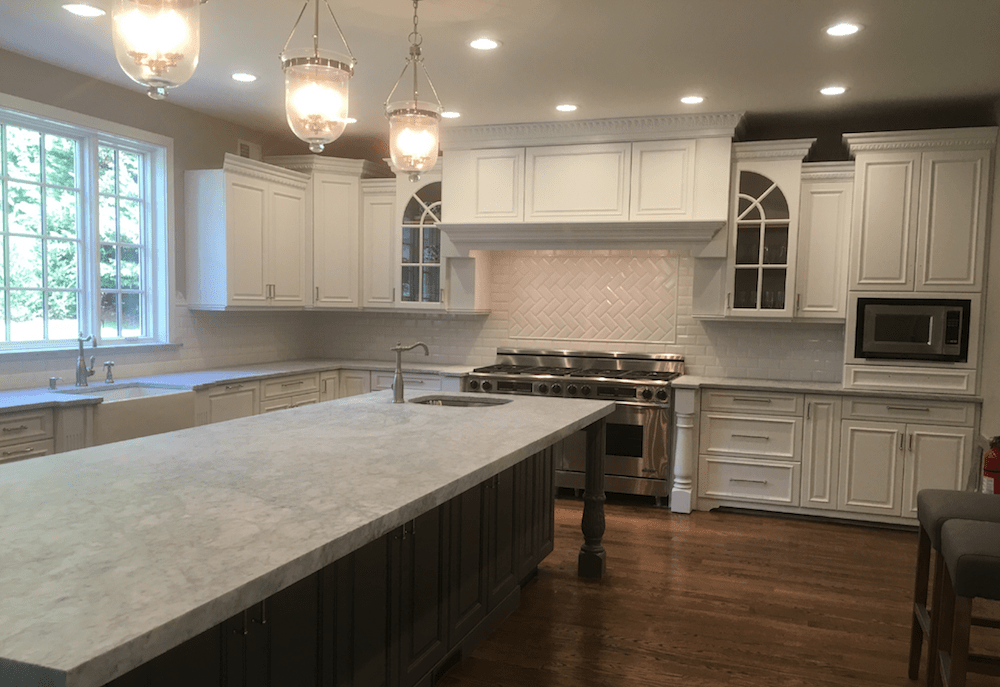 Monk's Method
The cabinetry in the kitchen was very good quality and in very good condition. However, the homeowner requested a cosmetic change. The painters removed all the doors and drawers from the cabinet frames. They hand-sanded and then primed the cabinets. The wall cabinetry was painted with two coats of white paint. The painters lightly hand-sanded each piece between each coat. The painters used a cup-spray application to deliver a smooth factory-like finish.
For the kitchen island, the painters completed the same process. However, the painters gave the kitchen island cabinetry a medium gray paint color.
The countertop installers first templated and then fabricated the tops while the painters were at work on the cabinetry. A thick quartz countertop with a marble look was installed on the large kitchen island. Since it was quartz, the top was one large solid piece without any seams. A thinner version of the same countertop was installed on the wall cabinets.
Once the countertops were in, we installed the new backsplash. The homeowner chose a white beveled subway tile. We installed the tile in a traditional brick pattern around the walls. However, above the stove, we patterned the tile differently. We created a focal point by installing the tile in a chevron pattern.
Lastly, the painters reattached the doors and drawers, and the hardware was reinstalled. This kitchen is bright and light and very up-to-date!
The Wet Bar
Separately, we also painted the bar cabinetry that is found in the home's living room. These painters coated these cabinets with sleek black paint. We installed a subway style marble backsplash in this area. A totally different color scheme, but the styling ties everything together.