Project Info
Location: Montville, NJ
Scope of work: Kitchen Remodel, Tile Floor, Tile Backsplash
The owners of this Montville, NJ home called in our team at Monk's to transform this kitchen from a traditional look to a space with a fresh modern aesthetic. Over the course of six weeks our team entirely gutted and remade this kitchen.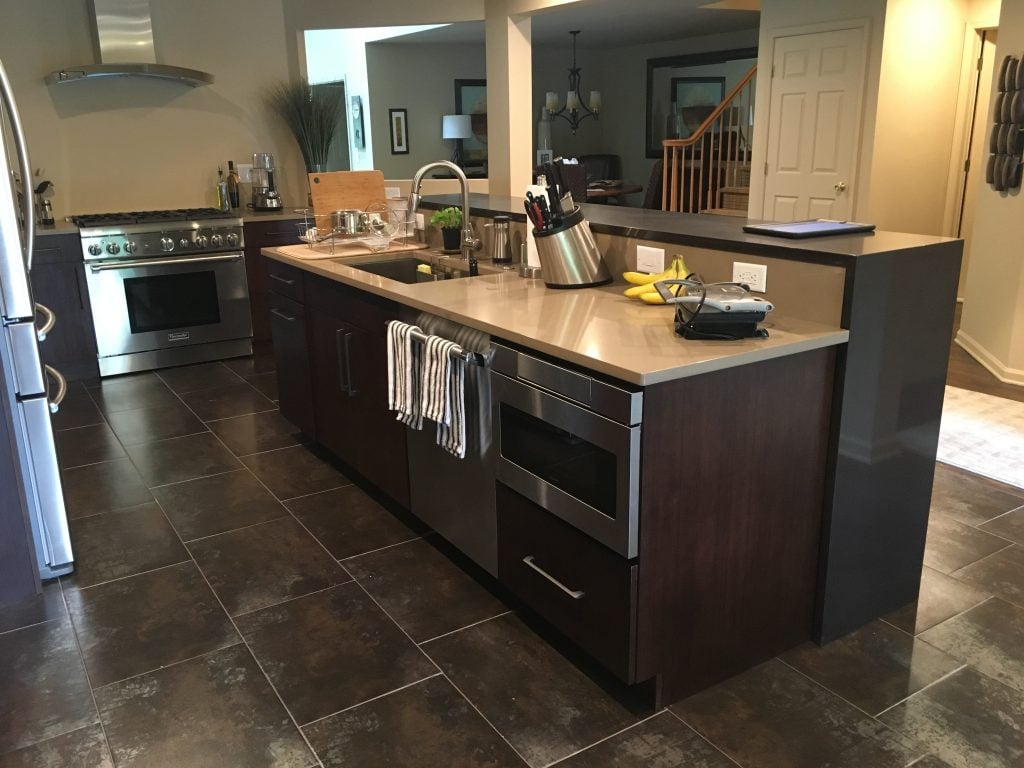 Monk's Method
This project began with our team entirely gutting the home's existing kitchen.
Not only did our team entirely gut the kitchen, but walls were also removed to create a more open floor plan.
We installed a new structural beam to provide proper support, despite the walls being removed to make way for the new open kitchen plan.
Our team at Monk's Home Improvements is made up of more than just builders. Our kitchen and bath team is full of savvy designers to help create completely unique projects for your home. Not only was this kitchen designed by one of our in-house designers, but all materials were also supplied through Monk's as well.
The homeowners worked with our designer to pick out striking bamboo cabinetry. A large two-tiered island was also brought in. This island features a quartz waterfall countertop on the top tier. This countertop's uniform pattern creates a sophisticated look for the kitchen.
A lighter-colored quartz was used for the standard height countertops throughout the rest of the kitchen, with a light-colored quartz carrying through to the small backsplash between the two tiers of the island. We outfitted the front of the island with stacked tiles and grout to match. Minimal grout was used to give the illusion of one large, uniform piece.
Our team installed a unique porcelain tiled floor throughout the kitchen. The tiles had metallic elements to reflect the light.
Our team also installed special wine storage for the homeowners' special wine collection.
In only a matter of weeks, our team at Monk's had completely changed the look of this home's kitchen to a much more modern-feeling space.
Another great project completed by Monk's Home Improvements!