Project Info
Monk's transformed a monochrome kitchen into a warm, modern space with a cozy eat-in nook. The mix of wood, countertop surfaces, and cabinet door colors make the newly remodeled kitchen visually interesting.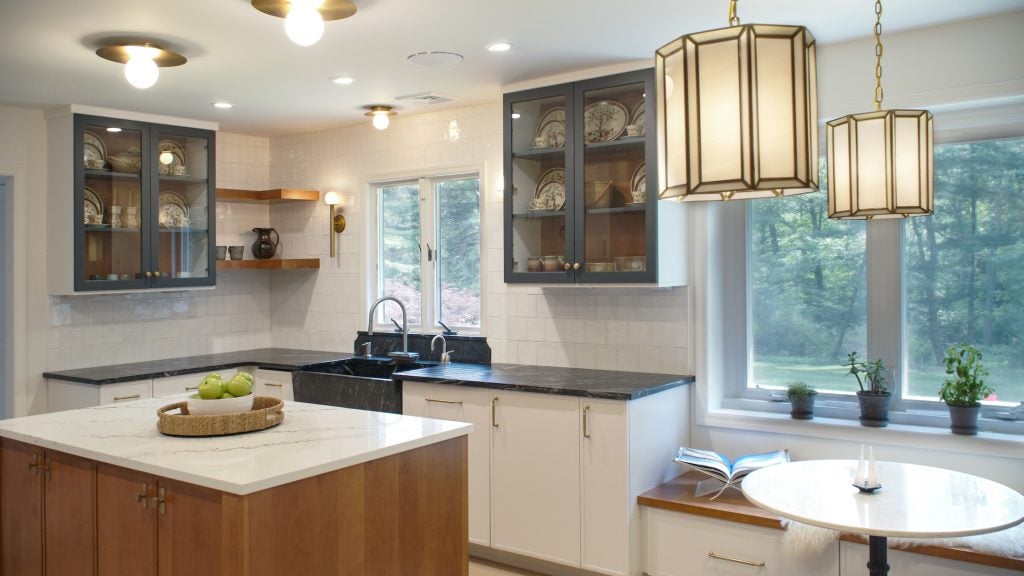 Modern bistro Kitchen Remodel Process
The existing kitchen was a bright space, but not entirely functional or visually appealing to the homeowners.
The Monk's kitchen designer was tasked to maximize the space, keep the open and airy feel, and add warmth to the room.
The homeowners needed more storage for countertop appliances and were willing to forgo their double oven to gain some pantry space. The existing soffits were also removed for the same purpose.
By creating a built-in seating area, we gained storage in the bench seating and were able to bring the cabinets right to the window frame. The homeowner's decision to utilize two bistro tables helped the room to feel light, while still being functional.
In addition to removing the soffits and utilizing smaller tables, we also installed floating shelving around the sink and range. All of these design elements added to the openness and lightness of the space.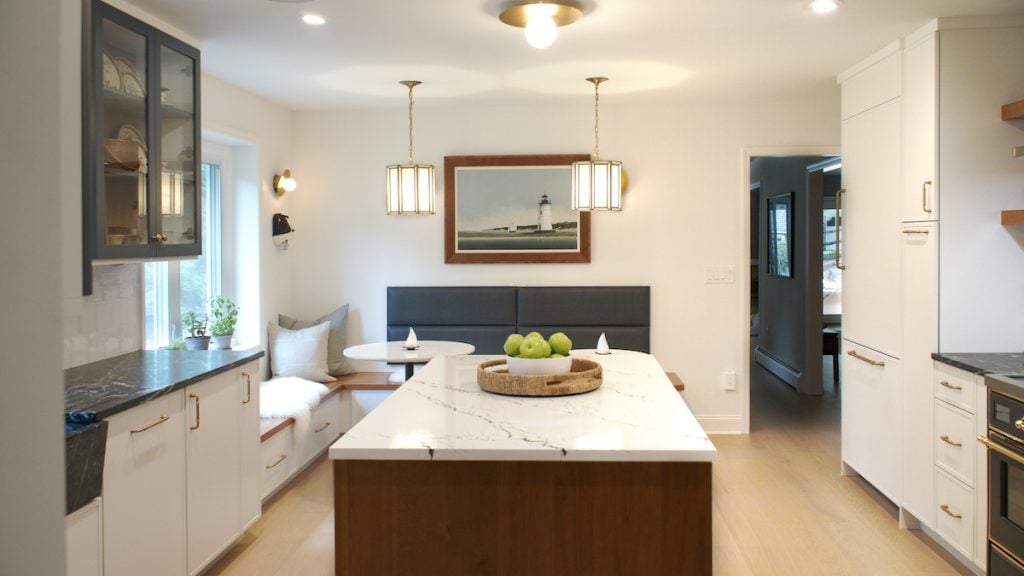 Lastly, we were tasked to add warmth to the space. The natural wood cabinets comprising the island and matching floating shelves were one component. The natural soapstone countertops and matching farmhouse sink also provided warm, organic elements. The black range and dark upper cabinet doors balanced the white backsplash and lower cabinetry.
The luxe lighting was the final touch to give the kitchen an upscale, modern, but inviting vibe.
View This gorgeous Kitchen
Ready to learn how Monk's can help you?
Contact us for your free, no obligation consultation and estimate.
Call the office at 973-635-7900 OR