Project Info
Location: Morristown, NJ
Scope of Work: Kitchen Remodel
This Morristown kitchen was not the standard 10′ x 10′ space. It was a rectangular galley kitchen with one section that bumps out farther than the rest. The homeowners decided to keep the general footprint of the kitchen. We replaced the cabinetry and refinished the hardwood floors and the result is amazing.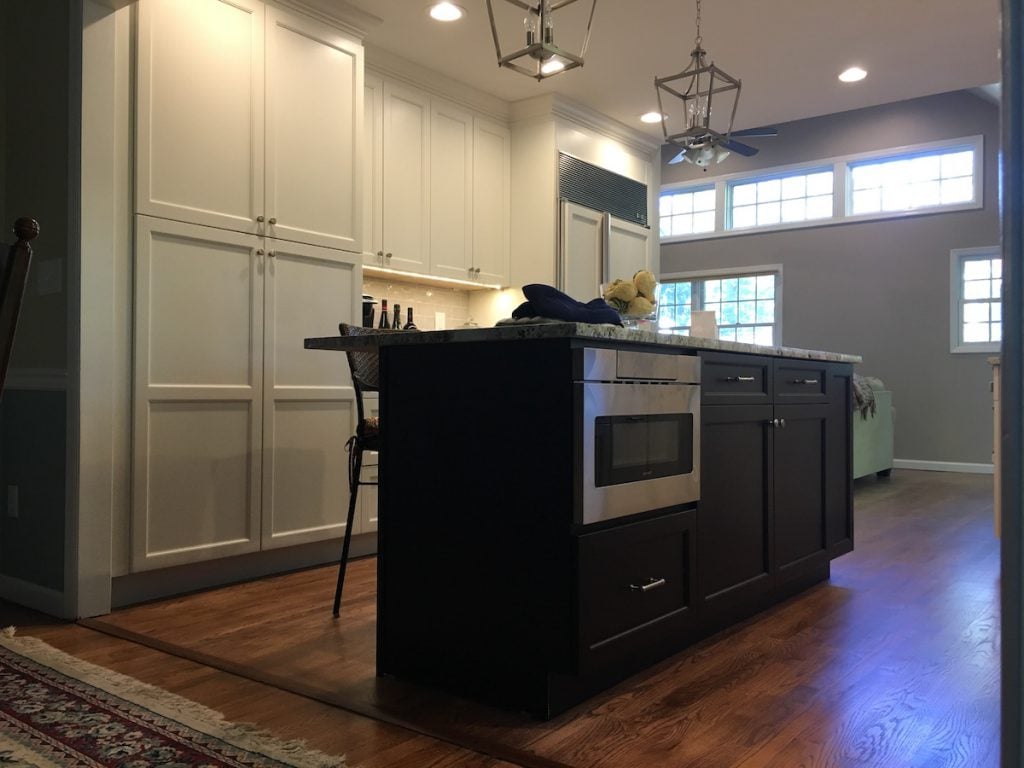 Monk's Method
Once the materials have been ordered, delivered and inspected, we are ready to get to work. The first step with this kitchen remodel, like all of them, is demolition. We removed the existing countertop. Then we disassembled all the existing cabinetry. We were careful when removing the units because the hardwood floor in the kitchen would remain. While some of the appliances were being reused, we moved them out of the kitchen space.
Once the room was cleared, we patched in some areas of hardwood flooring. The flooring crew sanded the entire room. Then they applied a medium-brown stain to the floors to match the flooring in the adjoining rooms. Two coats of polyurethane were then applied.
After the floors had a chance to dry thoroughly, we were back to work. The lower cabinets and island were installed. Now, we were able to have the new countertops templated. While the tops were being cut, we installed the rest of the cabinetry. Then the countertops were installed. We put in the tile backsplash. The tile was a light colored, polished subway tile. A vertical mosaic accent strip was placed all along the backsplash. Under the range hood we installed a white and grey arabesque mosaic tile as a visual focal point.
Once the fixtures and hardware were installed, this Morristown NJ kitchen remodel was complete.
More Kitchen Projects
Monk's Designers and Project Managers can help with any type of kitchen project. If your kitchen layout is working for you, we'll design a new workflow. Your Designer will configure your cabinetry, and help you select and coordinate all your materials including countertops, tile, hardware, and fixtures. Our Design services are always complimentary.
Your Project Manager will secure permits and manage all the tradesmen. We order, deliver and install.
If you'd like a free estimate for a home improvement project call us at 973-635-7900. Schedule your free estimate today!