Project Info
Location: Chester, NJ
Scope of Work: Kitchen Remodel
The new owners of this Chester, NJ home just relocated from Arkansas. The existing country kitchen didn't suit their style. They wanted a more modern look. Also, they wanted their kitchen to include a large island with seating. See how we updated their new home to meet their needs.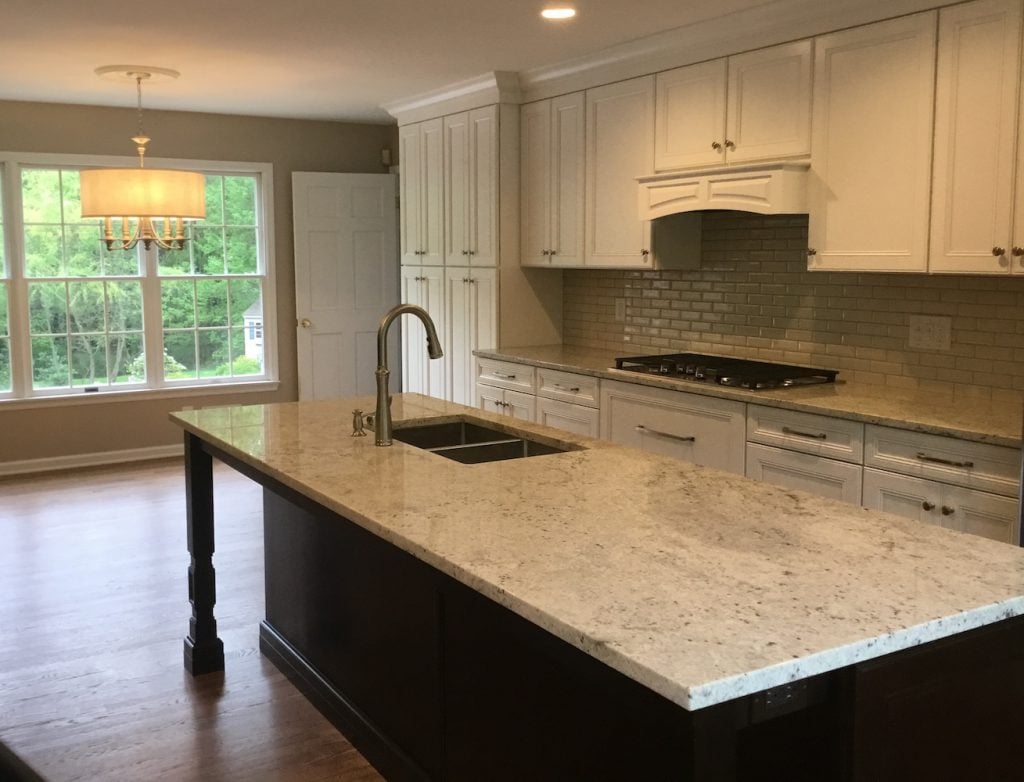 New State, New Home, New Kitchen
There are always things new homeowners want to change about their newly acquired homes. Oftentimes it's simple cosmetic changes like interior painting or adding some built-ins. However, these homeowners wanted to get a new kitchen. After our Estimator came to their home to take measurements and discuss their project, the homeowners came into our Morristown showroom.
In our Morristown showroom, they met with a Designer. During their scheduled, private appointment, they discussed their style, and what they wanted in their new kitchen. They selected white wall cabinetry. Conversely, they selected dark brown cabinetry to make up the island. This furniture style additional will add some warmth to the new kitchen. The dated parquet flooring would be replaced with hardwood planks. The homeowners also wanted to replace the desk and pantry with a bar area that includes a beverage refrigerator and ice maker. The standard refrigerator and double ovens would be reused, so the designer worked them into the cabinetry configuration.
The new kitchen layout is perfect for their family and the style reflects the transitional style that they prefer. Now the homeowners can enjoy their New Jersey kitchen.
Wonder how they thought about working with Monk's? You can read this customer's review of Monk's on Houzz and find out.
Ready to learn how Monk's can help you?
Contact us for your free, no obligation consultation and estimate.
Call the office at 973-635-7900 OR