Project Description
Location: Morristown, NJ
Scope of Work: Full Kitchen Remodel, Floor Install & Refinishing, Tile Installation
The Morristown homeowners wanted to open up their separate kitchen and dining rooms to create one large open plan kitchen area. We took an outdated kitchen and created a large eat-in kitchen complete with a fireplace.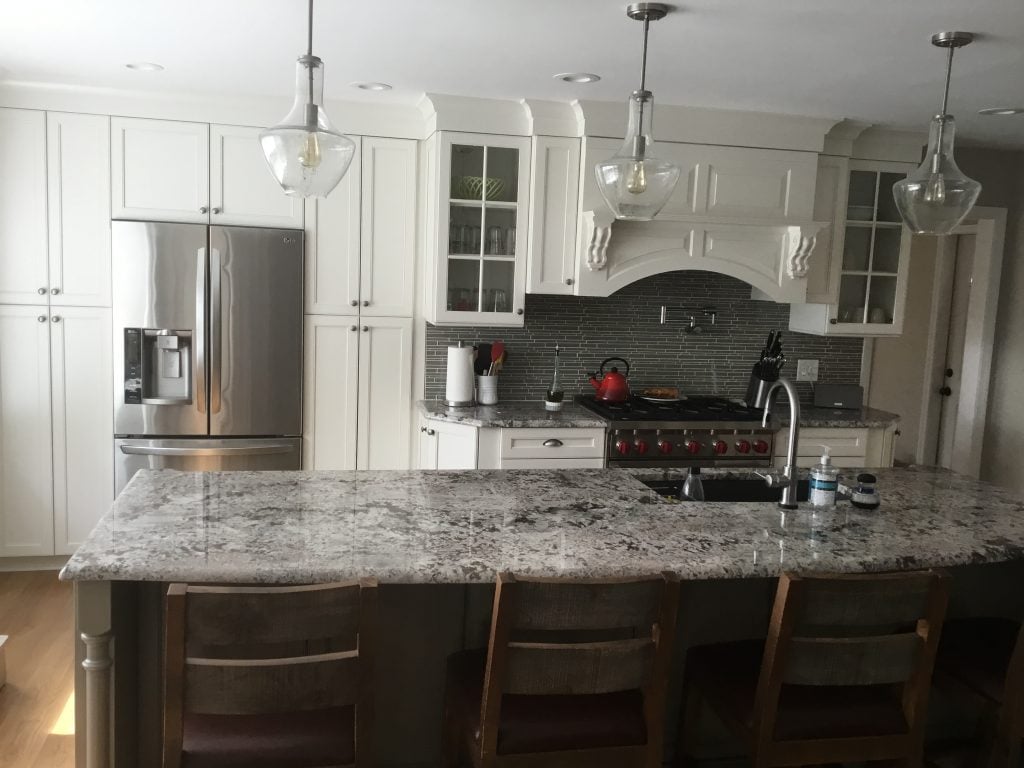 Monk's Method
Before construction began, the homeowners met with a Monk's Project Manager and Kitchen Designer to discuss their project. Measurements were taken and a well-planned kitchen was designed with the homeowner's chosen cabinetry style, colors, and accessories. The homeowners selected backsplash tile, fixtures and hardware. All were ordered through our showroom.
As with most remodeling projects, the first step was demolition. The existing cabinetry, countertops, and kitchen flooring were removed, as were the walls separating the dining room from the kitchen.
While new oak flooring was in the room being acclimated, the new walls were built. Then the flooring team began by feathering in the new oak planks into the existing dining room floorboards. After the entire kitchen floor had been installed, the entire space, including adjacent foyer and hallways, were sanded and stained to match.
Cabinetry installation was next, followed by countertop templating and countertop installation. The large island countertop was one single slab of granite. It was quite a job getting that 500 lb slab up the steep front yard!
The glass subway mosaic tile backsplash was ready to be installed, followed by the hardware and any finishing touches.