Project Info
Location: Madison, NJ
Scope of Work: Kitchen Remodel
These new townhouse owners recently relocated from Hoboken. While their townhouse kitchen was more spacious than their previous Hoboken kitchen, it had even greater potential. Monk's Designers and Project Managers gave this townhouse loads more storage, counter space, and seating. And we did it all within the existing kitchen's footprint.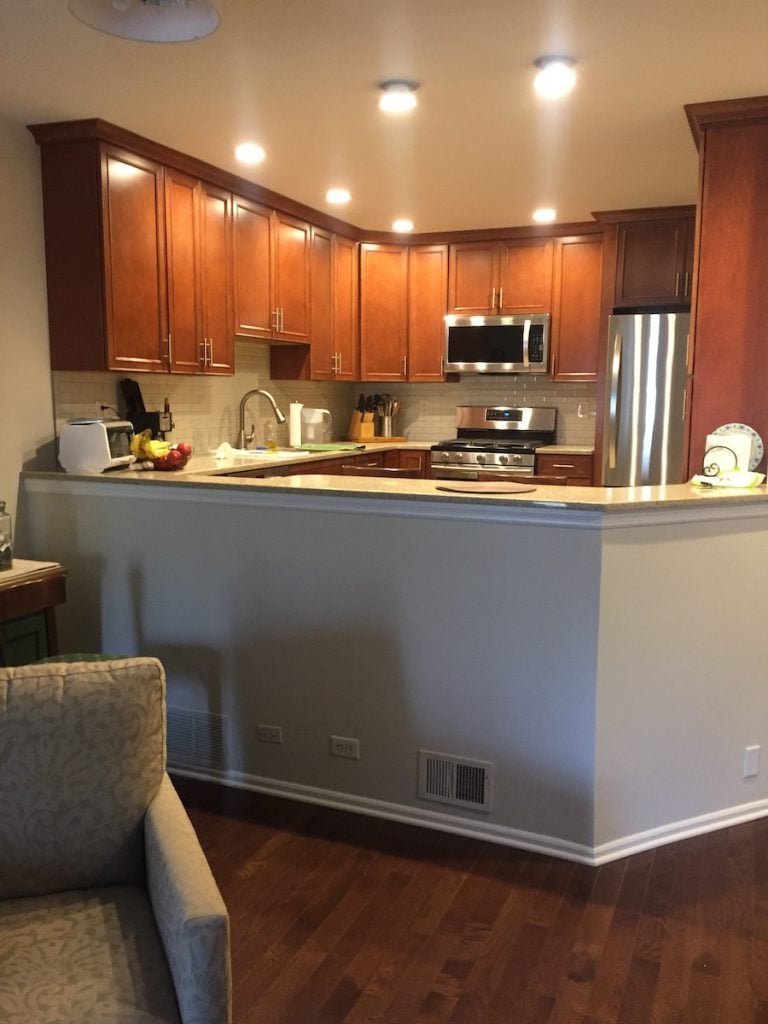 Townhouse Kitchen Remodel
The first step for this project was for Monk's to take careful measurements of the existing space. We investigated the soffits to see if there was electric, plumbing or ductwork that we needed to work around. By removing the soffits, we could install cabinets up to the ceiling, gaining lots of storage space. We also needed to see what walls were load-bearing, and what walls could be removed. By removing some of the wall areas, we could create a breakfast bar, which would add seating as well as counter space.
Once the measurements were taken, the client went to our Morristown, NJ showroom to meet with a Designer. The Designer created a new layout for the kitchen and configured the cabinetry to maximize storage space. She helped them select their cabinetry, countertop, backsplash tile, flooring, fixtures, and hardware. All of these materials would be replaced for this townhouse kitchen remodel.
When the materials were in, our installers got to work. They removed all the existing cabinetry, appliances, and flooring. They opened up the walls between the kitchen and living area. This makes the kitchen feel larger and also creates a natural gathering area for entertaining.
The crew installed luxury vinyl tile flooring. They put in new cabinetry, including a floor-to-ceiling pantry. Then we secured quartz countertops over the base cabinets and along the knee walls. Lastly, we installed the new subway tile for the backsplash and added the new hardware.
These new homeowners now had their first renovation project under their belt. Plus, a beautiful new kitchen to show for it!
Ready to learn how Monk's can help you?
Contact us for your free, no obligation consultation and estimate.
Call the office at 973-635-7900 OR