Project Info
Location: Bedminster, NJ
Scope of Work: Kitchen Remodel
This townhouse kitchen featured a compact, but well laid-out kitchen. However, the kitchen was pretty dated and featured laminate countertops, builder's grade cabinetry, and laminate flooring. The homeowner was ready for an upgrade, so our Designer and Project Management team were ready to help.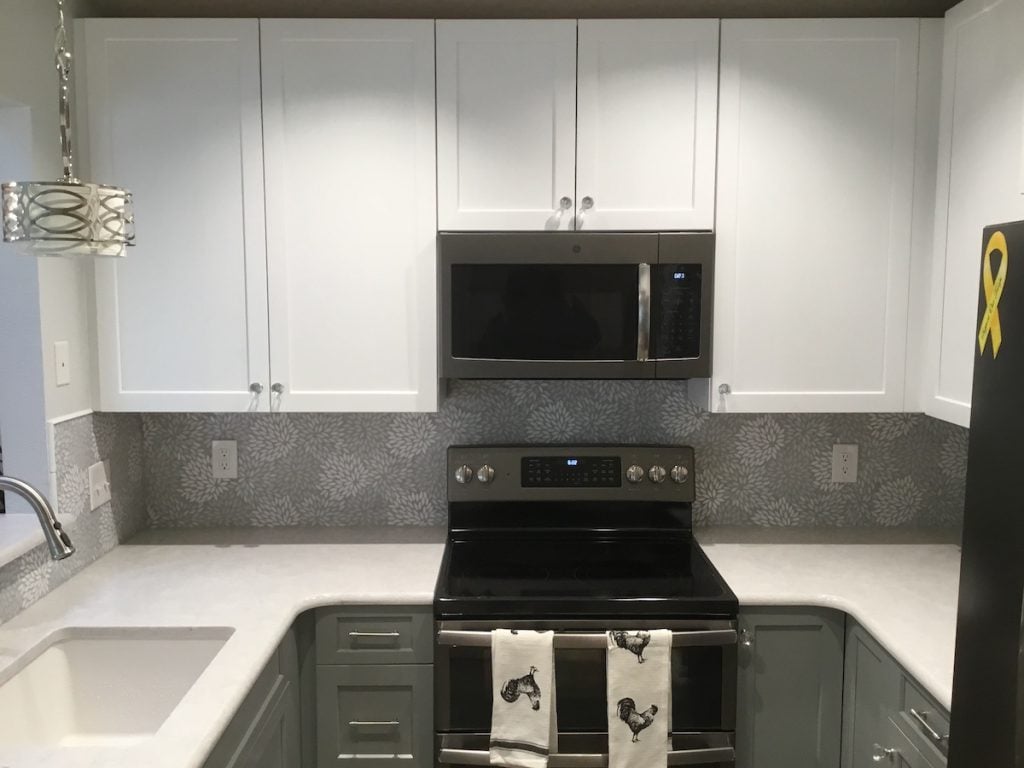 Townhouse Kitchen Remodel
The homeowner met with a Designer in our nearby Morristown, NJ showroom. Together, they discussed what the homeowner wanted out of her new kitchen. They discussed her style preferences. Since the kitchen is open to other rooms of the home, it was also important to take adjacent color schemes into consideration.
The homeowner selected a simple white shaker cabinet for the top cabinets. She also selected a sage green-colored cabinet for the bottom cabinets. Then she chose a white quartz countertop that would complement both cabinet colors. The backsplash ties everything together in a beautiful leaf mosaic pattern. Decorative backsplashes featuring nature motifs are increasingly popular. Your kitchen designer can show you lots of mosaic tiles, as well as create a unique pattern using multiple styles of tile.
The appliances were upgraded from white to a matte black. The last lovely addition was the pendant light over the sink.
Monk's project crew handled the demolition and installation. The new kitchen is absolutely lovely and the homeowner is very happy with her new condo kitchen.
Ready to learn how Monk's can help you?
Contact us for your free, no obligation consultation and estimate.
Call the office at 973-635-7900 OR