Project Info
Location: Morris Plains, NJ
Scope of Work: Kitchen cabinet painting, tile installation
This Morris Plains, NJ home features a fairly typical kitchen layout. The kitchen includes an L-shape of wall cabinets, an island, as well as an additional wall of cabinetry and appliances. The homeowner's wanted to upgrade this kitchen by painting the cabinetry and adding a tile backsplash.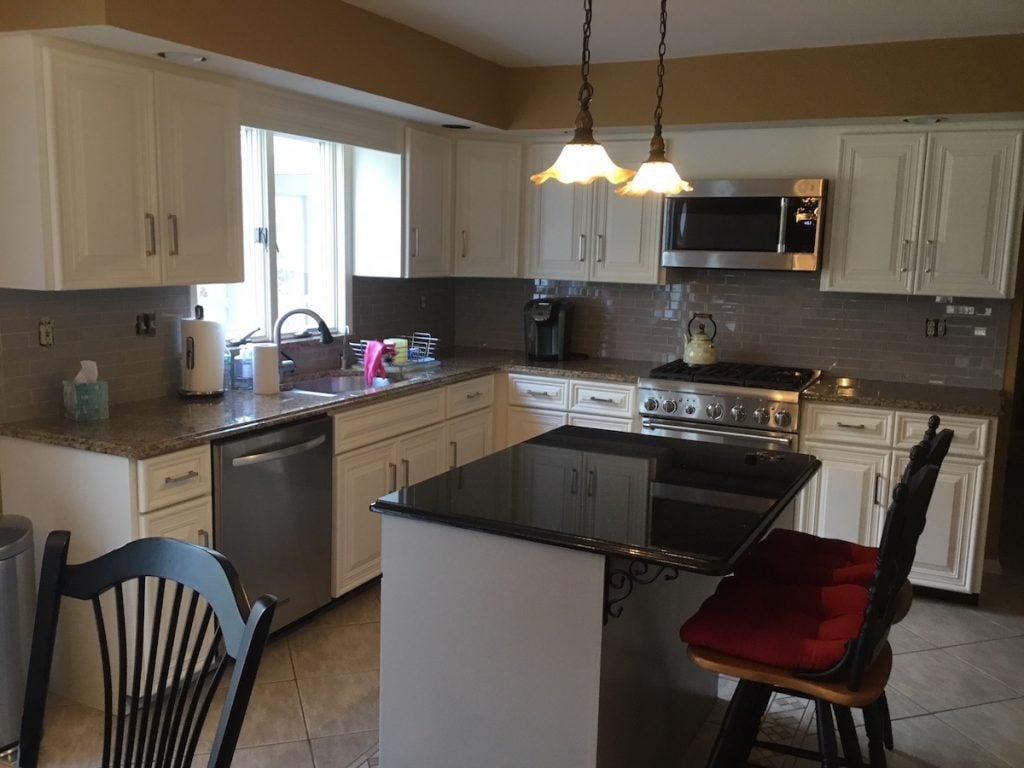 Builder's Kitchen Upgrade
The first step in this project was selecting the tile backsplash to be added to the walls. The homeowner selected a glass subway tile in a medium greyish blue. This color would look great once the cabinetry was painted white.
We installed the glass backsplash along both walls of the "L", as well as above the desk on the opposite wall.
Then the painters came in to paint the cabinetry. All the hardware was removed, as well as the doors and drawer fronts. The cabinet frames were taped off and prepped for spraying. We created a spray room in the kitchen by covering everything in plastic from top to bottom. This allowed us to apply the paint with a cup sprayer which produces a streak-free finish that is similar to a factory finish.
The painters lightly hand sanded all the cabinets. Then the applied multiple coats of white paint. They lightly sanded in between each coat. This would ensure the paint adhered properly and fully covered the oak.
When everything was completely dry, new hardware was put on the cabinets. All the door and drawers were reattached.
Now this builder's kitchen looks amazing!
Ready to learn how Monk's can help you?
Contact us for your free, no obligation consultation and estimate.
Call the office at 973-635-7900 OR