Project Info
Location: Randolph, NJ
Scope of Work: Wall removal, interior carpentry, floor patching
These Randolph New Jersey homeowners wanted to make the most out of their space. They also had a beautiful fireplace to showcase. The solution? Calling the team at Monk's to remove a wall in order to create the perfect living space! See how we made it possible.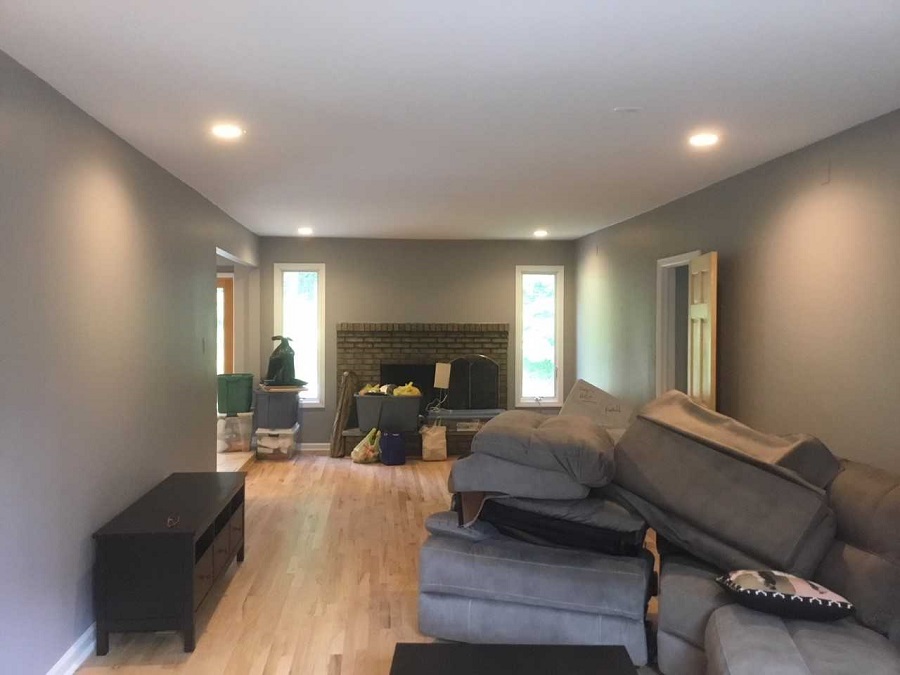 Removing a Wall
The top priority for these home owners was to create more usable space and improve the flow. As you can see, there is a beautiful fireplace. The home owners also wanted to highlight this lovely feature. To accomplish both, the wall separating two rooms had to be removed. This would create one large living room that would better accommodate entertaining and general family use.
Monk's carpenters set to taking down the non-load-bearing wall. The dry wall was patched and the electrical system relocated. They removed the old baseboard trim and installed new trim around the perimeter.
Floor Staining and Patching
Next, the flooring team got to work. There was no hardwood flooring underneath where the wall had previously stood. Rather than just fill in the gap, they patched the floor with a process called feathering. Harwood floor boards are reinstalled and staggered to create a seamless flow. Similarly, it helps to hide any appearance that a wall once stood there. After this, the flooring team finished the job by sanding and staining the floor.
At long last, having done all the finishing touches to make make the room look polished, the job was complete. Now these home owners have a beautiful new room that showcases the fireplace and maximizes the space.
It's easy to make the most out of your space when working with Monk's. Call today to schedule your free estimate!
Ready to learn how Monk's can help you?
Contact us for your free, no obligation consultation and estimate.
Call the office at 973-635-7900 OR