Project Info
Location: Morristown, NJ
Scope of Work: Two Story Addition
Timing: 10 weeks
Most often when we discuss home addition projects with customers they are interested in expanding the living space. Typically this involves the kitchen or living room, and the master bedroom. This was definitely not a typical home addition project. This homeowner wanted a two-story addition. However, on the ground floor, he wanted something just big enough to store his riding mower. The second story of the addition would be used as a master closet.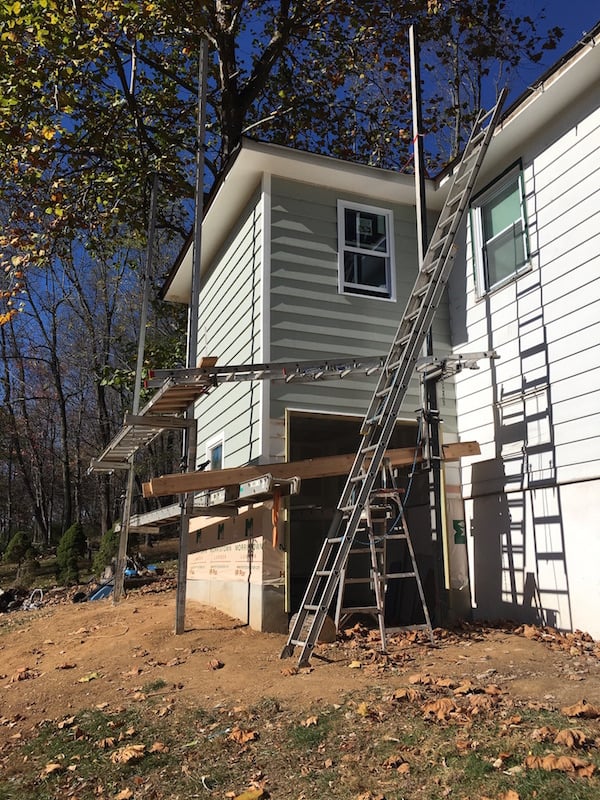 Monk's Method
Despite the small square footage of this two story addition, the project still required the same process as a larger add-on. Architectural plans were required, as well as obtaining a permit from the township. Once these items were in place, the work could begin.
The first step was to dig out for the foundation. The cinderblocks were set and the concrete was poured. We passed the first inspection.
Now the framing for the first story could begin. The carpenters framed out a large opening at the front of the addition. This opening was built for a garage door that would be later installed. This would give the homeowner easy access in and out of the space with the lawn mower. We framed out one window on the side of the addition.
The second story would feature two new windows; one in the front and one in the back. The roofing, siding, and gutters were also installed. Electricity was added to the new space, but plumbing was not required. The carpenters built the walls and finished off the interior.
Finally, the addition was painted inside and out, matching the rest of the home's exterior.
After 10 weeks of building and inspections, this two story addition was complete.