Project Info
Location: Mountain Lakes, NJ
Scope of Work: Wine cellar, floor installation, interior renovations
This Mountain Lakes, NJ couple love drinking wine, learning about wine, and sharing wine with their friends. True wine enthusiasts, they called Monk's to transform a room in their basement into the wine cellar of their dreams.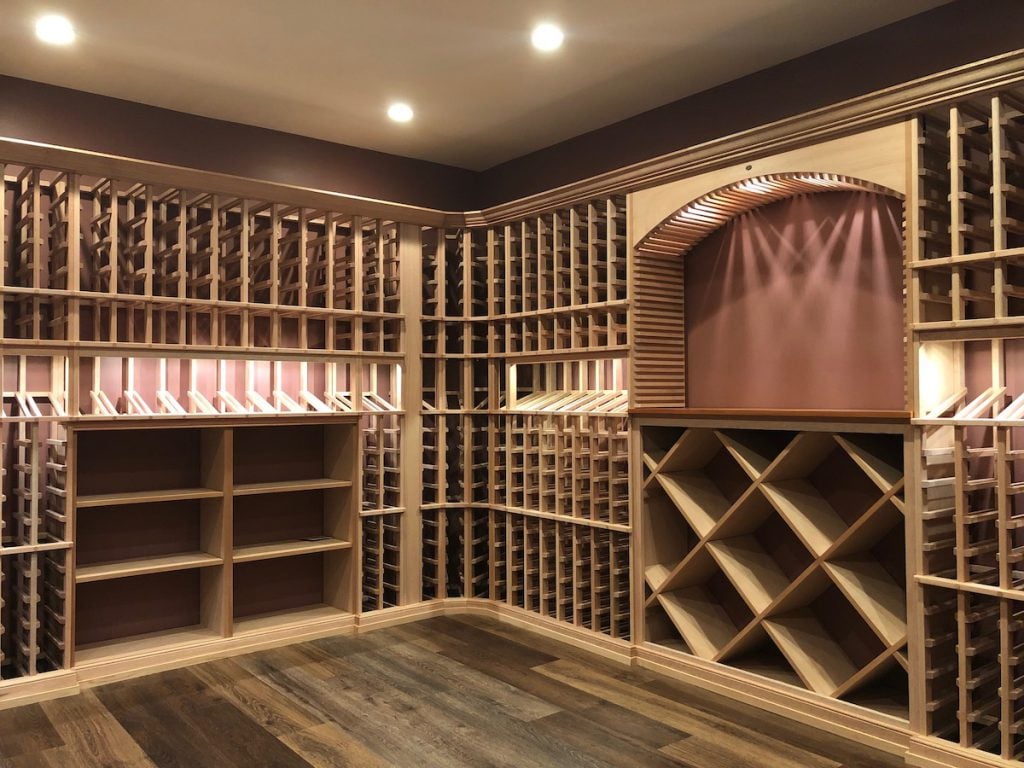 Monk's Method
The first step to this wine cellar transformation was planning out the new space. The Monk's Estimator took measurements and discussed the project requirements with the homeowner. Then, the customers came in to configure their wine rack system in our showroom. They choose the wood, stain, and storage configuration. We planned for plenty of single bottle storage, along with shelving for cases or other types of spirits. Additionally, counter space with spotlighting was added where bottle openings and tastings could occur.
Then came the installation. We demoed the existing basement down to the studs and joists. Baseboard heating and air conditioning vents were removed. Then the team wrapped the room with a vapor barrier and insulation. We did this in order to provide complete climate control for the wine cellar. A new, dedicated HVAC system was installed. We put in new drywall. The carpenters replaced the old carpet with luxury vinyl tile plank flooring.
Then the carpenters installed the custom mahogany wine racks. We integrated low-voltage lighting into the cabinetry. This would allow the client to find the perfect bottle of wine, without heating up the wine. We also installed a sealed door to complete the room insulation. Finally, we added the trim and then painted the room.
After the project was completed, the client wasted no time getting the racks filled with wine. We are anxiously awaiting our invitation for a tasting.
Ready to learn how Monk's can help you?
Contact us for your free, no obligation consultation and estimate.
Call the office at 973-635-7900 OR